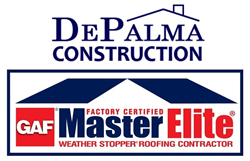 At DePalma Construction, no job is too large or too small to handle. Our crew members are professionals, trained to perform each and every job assigned with quality and care. – Dominic DePalma, President, DePalma Construction
Dillsburg, PA (PRWEB) June 08, 2016
DePalma Construction (http://www.roofingcontractorspa.com) is pleased to announce GAF Master Elite Roofing Contractor Status, ranking the Dillsburg Roofing Company among the top nation's top three percent in the industry. GAF Master Elite Roofing Contractors, like DePalma Construction, must meet the country's highest standards from state licensing to insurance to reputation to a commitment to ongoing technical training.
Customers can rest assured that DePalma's commitment to GAF's standards mean they can expect highest quality Pennsylvania roofing products and services delivered on time every time by well-qualified professionals.
"At DePalma Construction, customer service is job one for us, because our customers are also our neighbors and friends and we treat them as such. I personally visit each and every jobsite to ensure this priority service commitment is met and our customers are completely satisfied with quality, workmanship, and service." – Dominic DePalma, President, DePalma Construction
DePalma Construction provides quality roofing services to Dillwyn and the surrounding area including Harrisburg, York, and Mechanicsburg, delivering superior quality roofing products with exceptional service and competitive pricing. The craftsmanship, service, and value promised and delivered on every project is confirmed by their five-star customer service ratings and Better Business Bureau A+ Accreditation.
In addition to premium Dillwyn roofing services, DePalma Construction delivers outstanding services including siding and gutters as well as framing and home additions.
DePalma Construction was founded in 1999 by Dominic DePalma on the premise that every client deserves honesty and respect, regardless of the size of their project. Today the mission remains the same for those in need of Dillwyn roofing services, honesty and respect are promised on every project, along with premium quality materials and workmanship.
About DePalma Construction:
DePalma Construction has served Dillwyn, PA and the surrounding area since 1999, specializing in roof repair, and growing to include services like siding, gutters, framing and additions. Each project promises premium quality products, exceptional workmanship, and outstanding service. Truly a one-stop shop for roofing services, DePalma Construction believes each and every customer should be treated as friends and they are – along with quality, professionalism, and on time service.
DePalma Construction Inc, 29 Tannery Rd, Dillsburg, PA, 17019, Phone: (717) 638-1131, Fax: (717) 638-1180