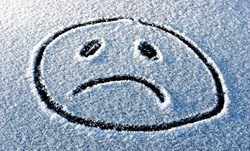 Depression is classified as an anxiety disorder that affects more than 40 million adults.
Austin, TX (PRWEB) September 17, 2013
B>U recognizes the phenomenon known as the Winter Blues but psychologists study it as Season Affectional Disorder (SAD). SAD is still a scientific mystery but some scientists believe that much of the disorder has to do with people being acutely sensitive to light or the lack thereof.
Those who are sensitive to the sun need to understand the dynamics and use the following B>U tips to help prevent the winter blues getting the best of people.
Experts say exercise can be the most preventative care to depression because increased blood flow helps generate the serotonin chemicals that affect mood. If the climate is too harsh in the winter, consider joining a gym. Workouts are good at home but with a gym membership, it will force interaction with others which is also good in helping fight depression.
Find the sunlight. Sunlight provides Vitamin D which is good for the body, mind and soul. Try to get out doors more. Open the curtains and shades for more natural light. There are also light bulbs that emulate natural light.
Eat a healthy diet. Many foods weigh people down literally and figuratively. Nutritious foods, which include many vegetables, can be energetic and helps weight loss.
Create events to look forward to going. Create a special night out or a day at the spa during the week. Plan weekend trips or social get togethers. Creating lights at the end of the tunnel help people stay positive.
Stay connected. Even if it's only through facebook, Skype or on the phone. Loneliness begets depression so it is important to make the effort to have social engagement.
According to the Anxiety and Depression Association of America, depression is classified as an anxiety disorder which affects more than 40 million adults. B>U issues these tips in the hopes to help individuals especially for the upcoming Winter season when depression can be more severe than other seasons.
About B>U:
BGreaterThanU.com offers lifestyle tips and inspirational stories about individuals being greater than themselves for a greater world. B>U is their clothing line to brand the philosophy. For more information, go to BGreaterThanU.com.