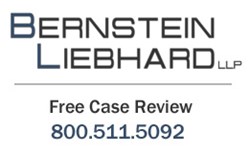 Given all the recent media attention on the DePuy ASR lawsuits, including unconfirmed reports of settlement figures, we look forward to hearing directly from the court on these issues.
New York, New York (PRWEB) November 15, 2013
The Federal Court handling the multidistrict litigation for DePuy ASR hip lawsuits (http://www.depuy-asr-hip-recall.com/) issued an Order today convening a Conference on Tuesday, November 19th, at 4:30 p.m. (In re: DePuy Orthopaedics, Inc. ASR Hip Implant Products Liability Litigation – MDL 2197)
"We are looking forward to this conference. Some have speculated the parties will address recent media reports concerning potential settlement of the DePuy ASR lawsuits. Our clients anxiously await resolution of their claims," says Bernstein Liebhard LLP, a nationwide law firm representing the victims of defective drugs and medical devices, including hundreds of DePuy ASR hip recipients. The Firm continues to offer free DePuy ASR lawsuit evaluations to individuals who allegedly experienced metallosis, chronic pain, disability, premature hip implant failure, and other serious complications allegedly related to the recalled metal-on-metal hip implant.
DePuy ASR Recall
Court documents indicate that more than 12,000 DePuy ASR lawsuits have been filed since DePuy Orthopaedics and its Johnson & Johnson unit recalled the artificial hips from the market in August 2010. The majority of these claims are pending in the federal multidistrict litigation underway in Ohio, where next Tuesday's conference is scheduled. That litigation's first bellwether trial was to begin in September, but was postponed for up to 90 days. It has yet to be rescheduled.
Earlier this week, Bloomberg.com reported that Johnson & Johnson had agreed to pay more than $4 billion to settle thousands of DePuy ASR lawsuits filed on behalf of people who were forced to undergo revision surgery, allegedly due to premature failure of an ASR hip. However, the reported DePuy ASR settlement has not been confirmed by any of the parties involved in the litigation.*
At least two DePuy ASR recall claims have gone to trial on the state court level over the past several months. In March, A Los Angeles Superior Court jury awarded one plaintiff more than $8 million after finding that his ASR hip was defectively designed. (Kransky v. DePuy, BC456086, California Superior Court, Los Angeles County) However, a jury in Chicago found for Johnson & Johnson in a second trial just one month later. (Strum v. DePuy, 2011-L-9352, Circuit Court of Cook County)
Court documents filed in California's San Francisco Superior Court indicate that a settlement was reached last month that resolves claims in a DePuy ASR lawsuit that was also being prepared for trial. The terms of the settlement have not been disclosed. (Ottman v. Johnson & Johnson Services, et al., No. CGC-12-517391;Calif. Super. Ct., San Francisco Cty.)
Individuals who suffered serious and debilitating complications, allegedly due to an ASR hip, may be entitled to file a DePuy ASR lawsuit seeking compensation for medical bills, lost wages, and pain and suffering. Learn more about the DePuy ASR recall at Bernstein Liebhard LLP's website. For a free case review, please call 800-511-5092.
*bloomberg.com/news/2013-11-12/j-j-said-to-reach-4-billion-deal-to-settle-hip-lawsuits.html, Bloomberg.com, November 12, 2013
About Bernstein Liebhard LLP
Bernstein Liebhard LLP is a New York-based law firm exclusively representing injured persons in complex individual and class action lawsuits nationwide since 1993, including those who have been harmed by dangerous drugs, defective medical devices and consumer products. The firm has been named by The National Law Journal to the "Plaintiffs' Hot List," recognizing the top plaintiffs' firms in the country, for the past 11 consecutive years.
Bernstein Liebhard LLP
10 East 40th Street
New York, New York 10016
800-511-5092
ATTORNEY ADVERTISING. © 2013 Bernstein Liebhard LLP. The law firm responsible for this
advertisement is Bernstein Liebhard LLP, 10 East 40th Street, New York, New York 10016, 800-511-5092. Prior results do not guarantee or predict a similar outcome with respect to any future matter.
###
Contact Information:
Felecia L. Stern, Esq.
Bernstein Liebhard LLP
info(at)consumerinjurylawyers(dot)com
http://www.depuy-asr-hip-recall.com/
https://plus.google.com/115936073311125306742?rel=author