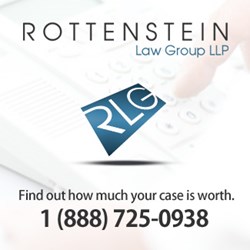 The firm is actively filing ASR lawsuits on behalf of those who have suffered metallosis, premature device failure, and other serious complications allegedly caused by the device.
(PRWEB) September 16, 2013
A California man's DePuy ASR hip lawsuit is set to be the first bellwether trial in a state court consolidation on Oct. 10, but that could change if a judge grants Johnson & Johnson, its subsidiary DePuy and related defendants a summary judgment on Sept. 13, according to court documents. The Rottenstein Law Group LLP, a metal-on-metal hip implant law firm, maintains a comprehensive DePuy ASR information page at http://www.rotlaw.com/depuy-asr-hip.
Johnson & Johnson and the other defendants filed the motion for summary adjudication with Judge Richard A. Kramer in July, and plaintiff Robert Eugene Ottman had until Aug. 30 to respond, according to court documents (Robert Eugene Ottman v. Johnson & Johnson Services Inc. et al, CGC-12-517391; Superior Court of California, County of San Francisco). Kramer oversees California's consolidation of more than 600 ASR metal-on-metal lawsuits, according to court documents (DePuy ASR Hip System Cases, JCCP-4649, Superior Court of California, County of San Francisco).
"The defendants are asking the judge to rule in their favor on the facts and the law without the necessity of a trial," said Rochelle Rottenstein, principal of the Rottenstein Law Group. "This is common. Ottman will oppose summary judgment in favor of the defendants, of course. Summary judgment is rarely granted, however, because the bar for proving that it is appropriate is very high."
One of the potentially dangerous adverse side effects of the metal-on-metal DePuy ASR hip replacement device is that its components can form friction with each other, causing metal poisoning, or "metallosis," according to a Jan. 17 FDA safety communication.* That is, small, heavy metal ions can break off into the implantee's bloodstream and cause neurological problems and other issues.
DePuy recently was said to be considering the settling of ASR lawsuits for about $3 billion, according to an Aug. 21 Bloomberg story.** In 2010 Johnson & Johnson recalled 93,000 metal-on-metal hip implants worldwide, about 33,000 of those in the United States. A bellwether trial in the federal case consolidation is scheduled to begin on Sept. 23, according to court documents (In re: DePuy Orthopaedics Inc., ASR Hip Implant Products Liability Litigation; MDL-2197, U.S District Court for the Northern District of Ohio).
The Rottenstein Law Group LLP encourages those who believe they have suffered from the ASR's alleged side effects to visit the firm's website to download a free informational brochure to learn more about ASR lawsuits and side effects and how to contact an attorney for a free consultation.
*http://www.fda.gov/MedicalDevices/ProductsandMedicalProcedures/ImplantsandProsthetics/MetalonMetalHipImplants/ucm241604.htm
**bloomberg.com/news/2013-08-21/j-j-said-to-weigh-3-billion-settlement-of-its-hip-implant-cases.html
About THE ROTTENSTEIN LAW GROUP LLP
The Rottenstein Law Group LLP is a New York-based firm that represents clients nationwide in mass tort actions. The firm was founded by Rochelle Rottenstein, who has more than two decades of experience as a lawyer, to represent clients hurt by defective medical devices and medications. (Attorney advertising. Prior results do not guarantee a similar outcome.)
Contact:
The Rottenstein Law Group LLP
Rochelle Rottenstein, Esq.
321 W. 44th Street
# 804
New York NY 10036
(212) 933-9500 (office phone)
(212) 933-9980 (facsimile)
rochelle (at) rotlaw (dot) com