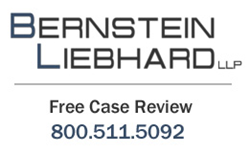 Our Firm is representing many clients in DePuy Pinnacle hip lawsuits who allegedly suffered injuries similar to those at issue in this trial.
New York, New York (PRWEB) September 04, 2014
The first federal trial of a DePuy Pinnacle hip lawsuit (http://www.depuypinnacle-lawsuit.com/)
is now moving forward in the U.S. District Court, Northern District of Texas, Bernstein Liebhard LLP reports. During opening statements yesterday, a Plaintiff's attorney told the assembled jury that DePuy Orthopaedics' attempts to sell surgeons on a metal-on-metal version of the Pinnacle Hip Replacement System represented "marketing run amok." According to a report from Bloomberg News, the attorney asserted that the company promised doctors that the all-metal Pinnacle worked "99.9 percent of the time," and ignored alleged design flaws that put recipients at risk for early failure of the device.* (Herlihy-Paoli v. DePuy Orthopaedics Inc., 11-cv-3590)
"Our Firm is representing many clients in DePuy Pinnacle hip lawsuits who allegedly suffered injuries similar to those at issue in this trial. We will be following developments closely, as we hope to garner some insight into how juries might rule in similar claims," says Bernstein Liebhard LLP, a nationwide law firm representing the victims of defective drugs and medical devices. The Firm continues to offer free legal evaluations to individuals who were allegedly harmed by a metal-on-metal version of the DePuy Pinnacle Hip Replacement System.
DePuy Pinnacle Litigation
Court records indicate that this trial is the first to get underway in the federal Pinnacle hip litigation, which currently includes more 6,000 cases involving a version of the device that utilizes the Ultamet liner. Bernstein Liebhard LLP partner, Jeffrey S. Grand, is serving on the Plaintiffs' Steering Committee in this proceeding. (In re: DePuy Orthopaedics Inc. Pinnacle Hip Implant Product Liability Litigation, MDL No. 2244)
According to court documents, the case currently at trial was filed on behalf of a 58-year-old Montana woman who underwent revision surgery within two years of receiving the Pinnacle hip. Her lawsuit alleges that the all-metal design of the device caused her to suffer a range of serious complications, including cobalt blood serum levels 85 times higher than normal.
Johnson & Johnson and DePuy Orthopaedics announced in May 2013 that they would end sales of the all-metal Pinnacle, as well as other metal-on-metal hip replacements. While the companies maintained that the decision was not driven by safety concerns, the announcement did follow an alert issued by the U.S. Food & Drug Administration (FDA) in January of that year that warned metal-on-metal hips were more likely to fail early than those made of other materials. **
Recipients of the metal-on-metal Depuy Pinnacle hip implant may be entitled to compensation if they suffered metallosis, chronic pain, premature device failure or other complications allegedly associated with its all-metal design. To learn more about filing a DePuy Pinnacle lawsuit, please visit Bernstein Liebhard LLP's website. To arrange for a free, no obligation review of your case, please call 800-511-5092 today.
*businessweek.com/news/2014-09-03/j-and-j-unit-ran-amok-marketing-pinnacle-hips-jury-told, Bloomberg News, September 3, 2014
**bloomberg.com/news/2013-05-16/j-j-will-stop-sales-of-metal-on-metal-hip-replacements.html, Bloomberg News, May 17, 2013
About Bernstein Liebhard LLP
Bernstein Liebhard LLP is a New York-based law firm exclusively representing injured persons in complex individual and class action lawsuits nationwide since 1993. As a national law firm, Bernstein Liebhard LLP possesses all of the legal and financial resources required to successfully challenge billion dollar pharmaceutical and medical device companies. As a result, our attorneys and legal staff have been able to recover more than $3 billion on behalf of our clients. The Firm has been named by The National Law Journal to the Plaintiffs' Hot List, recognizing the top plaintiffs firms in the country, for the past 12 consecutive years. Bernstein Liebhard LLP is the only firm in the country to be named to this prestigious list every year since it was first published in 2003.
Bernstein Liebhard LLP
10 East 40th Street
New York, New York 10016
800-511-5092
ATTORNEY ADVERTISING. © 2014 Bernstein Liebhard LLP. The law firm responsible for this advertisement is Bernstein Liebhard LLP, 10 East 40th Street, New York, New York 10016, 800-511-5092. Prior results do not guarantee or predict a similar outcome with respect to any future matter.
Contact Information:
Felecia L. Stern, Esq.
Bernstein Liebhard LLP
info(at)consumerinjurylawyers(dot)com
http://www.depuypinnacle-lawsuit.com/
https://plus.google.com/115936073311125306742?rel=author