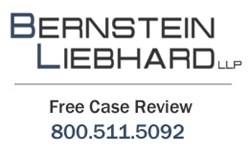 Our Firm is representing numerous individuals in DePuy Pinnacle lawsuits, and we continue to receive inquiries from others who were allegedly injured by the all-metal Pinnacle on a regular basis.
New York, NY (PRWEB) February 03, 2014
DePuy Pinnacle hip lawsuits (http://www.depuypinnacle-lawsuit.com/) involving a metal-on-metal version of the Pinnacle hip system continue to mount in the federal multidistrict litigation underway in U.S. District Court, Northern District of Texas, Bernstein Liebhard LLP reports. According to a Master Case List issued by the Court on January 31, 2014, at least 5,590 DePuy Pinnacle lawsuits have been filed in the proceeding on behalf of individuals who were allegedly injured by a version of the Pinnacle Hip Replacement System that utilizes the Ultamet liner. The number of claims has increased by nearly 100 since the Court issued its last update on January 2nd. (In re: DePuy Orthopaedics Inc. Pinnacle Hip Implant Product Liability Litigation, MDL No. 2244)
"It is not at all surprising that the number of claims pending in this proceeding is nearing 5,600. Our Firm is representing numerous individuals in DePuy Pinnacle lawsuits, and we continue to receive inquiries from others who were allegedly injured by the all-metal Pinnacle on a regular basis," says Bernstein Liebhard LLP, a nationwide law firm representing victims of dangerous drugs and medical devices. The Firm continues to offer free DePuy Pinnacle lawsuit reviews to individuals who may have been injured as a result of this metal-on-metal hip implant.
DePuy Pinnacle Hip Lawsuits
According to court documents, all of the Pinnacle hip lawsuits pending in the Northern District of Texas allege that the all-metal design created by the Ultamet liner can cause the hip implant to shed dangerous amounts of microscopic metal debris into patients' tissue and blood stream. Among other things, plaintiffs assert that the all-metal Pinnacle is flawed in much the same way as the DePuy ASR hip, which was recalled in 2010. They question whether or not the metal-on-metal Pinnacle should be pulled from the market as well.
Bernstein Liebhard LLP partner, Jeffrey S. Grand, is a member of the Plaintiffs' Steering Committee in the federal DePuy Pinnacle litigation underway in Texas. Court records indicate that the litigation's first bellwether trials are scheduled to begin in September 2014.
According to an alert issued by the U.S. Food & Drug Administration (FDA) in January 2013, metal-on-metal hip implants may be more prone to premature failure than devices made from other materials. Recipients of such implants who suffer pain, swelling, or other symptoms that might be indicative of failure should undergo metal ion blood testing to ensure their hip is functioning properly, according to the agency. The FDA has also recommended stricter regulations for metal-on-metal hip implants, including a requirement that manufacturers of devices currently on the market conduct safety studies of their products if they plan to continue selling them.
According to a Bloomberg.com report from May 2013, increased FDA scrutiny of metal-on-metal hips helped to prompt a decision by DePuy Orthopaedics to end sales of such devices, including the all-metal Pinnacle.*
Individuals who suffered serious complications allegedly related to the metal-on-metal version of the Pinnacle hip implant may be entitled to compensation for their injury-related damages. To learn more about filing a DePuy Pinnacle lawsuit, please visit Bernstein Liebhard LLP's website. To arrange for a free, no obligation review of your case, please call 800-511-5092 today.
*bloomberg.com/news/2013-05-16/j-j-will-stop-sales-of-metal-on-metal-hip-replacements.html, Bloomberg.com, May 17, 2013
About Bernstein Liebhard LLP
Bernstein Liebhard LLP is a New York-based law firm exclusively representing injured persons in complex individual and class action lawsuits nationwide since 1993, including those who have been harmed by dangerous drugs, defective medical devices and consumer products. The firm has been named by The National Law Journal to the "Plaintiffs' Hot List," recognizing the top plaintiffs' firms in the country, for
the past 11 consecutive years.
Bernstein Liebhard LLP
10 East 40th Street
New York, New York 10016
800-511-5092
ATTORNEY ADVERTISING. © 2014 Bernstein Liebhard LLP. The law firm responsible for this advertisement is Bernstein Liebhard LLP, 10 East 40th Street, New York, New York 10016, 800-511-5092. Prior results do not guarantee or predict a similar outcome with respect to any future matter.
Contact Information:
Felecia L. Stern, Esq.
Bernstein Liebhard LLP
info(at)consumerinjurylawyers(dot)com
http://www.depuypinnacle-lawsuit.com/
https://plus.google.com/115936073311125306742?rel=author