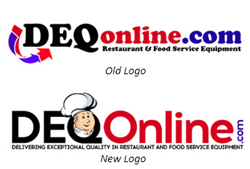 As one of the top 100 foodservice equipment and supplies dealers in the country, DEQOnline.com is always looking for new ways to better connect with clients and enhance their product and service offerings.
Bluefield, West Virginia (PRWEB) July 15, 2015
Douglas Equipment is the 29 year old company behind DEQOnline.com. As one of the top 100 food service equipment and supplies dealers in the country, the company is always looking for new ways to better connect with clients and enhance their product and service offerings. Most recently, DEQOnline.com underwent a major rebranding effort that included a logo redesign, slogan development, and company mascot creation.
Douglas Equipment was established in 1986 by Larry Douglas. The company has a brick and mortar store located at 301 North Street in Bluefield, West Virginia. However, a large portion of their customers purchase restaurant equipment and food service supplies through the convenience of their online store located at DEQOnline.com. The e-commerce site includes thousands of products to fulfill the needs of restaurants, convenience stores, concession stands, food trucks, schools, universities, hospitals, nursing homes, and even prisons, offering fair prices and high-quality products.
"Douglas Equipment started out providing ice cream and concession equipment solutions for restaurants and convenience stores nearly 30 years ago. Since that time, we have expanded our products to include a complete line of restaurant and food store equipment. Unfortunately, our brand didn't adequately reflect that," says Jeremy Lester, DEQOnline.com E-Commerce Manager. "Over the past few months, we've worked diligently to transition away from the dated feel and overhaul the DEQOnline brand. It was quite an undertaking, but we are very pleased with the results. We hope the new logo, slogan, and mascot will help our customers and potential customers immediately identify who we are and what we do."
The previous DEQOnline.com logo included a red and blue arrow, reminiscent of an experimental jump into HVAC approximately a decade ago. The new logo maintains the same color scheme, but features a chef character inside the Q. A clean, crisp font gives it a modern feel, and there is a new slogan underneath to further solidify their offerings.
Playing off of the acronym DEQ for Douglas Equipment, the new company slogan is "Delivering Exceptional Quality in Restaurant and Food Service Equipment." When company founder, Larry Douglas, started the company, he established the business on the principles of honesty and integrity. With a mission to provide the highest quality products available, the updated slogan aptly fits the business and explains to customers what they're all about in one simple sentence.
As the new mascot, Chef Larry pays homage to the company's founder. Designed to look like Larry Douglas, Chef Larry is dressed in a traditional chef's uniform, complete with a billowy hat. Depicting Larry as a chef was important to the company, who wanted patrons to quickly identify with something familiar to the restaurant industry. Chef Larry is featured on DEQ's social media platforms, throughout DEQOnline.com, and will appear in the company's corresponding marketing materials.
# # #
For more information on DEQOnline.com, contact Jeremy Lester at 855-327-2909.
About Douglas Equipment
Douglas Equipment is a restaurant and food service equipment supplier located in Bluefield, West Virginia. Named a 2015 Distribution Giant by Foodservice Equipment & Supplies Magazine, the company conducts a large portion of business online at DEQOnline.com. The e-commerce site offers customers the convenience to shop thousands of high-quality products - anytime, anywhere. With our 29 years of experience supplying the needs of government bids, contract work, schools, convenience stores, and restaurants, DEQOnline.com is committed to the best prices and quality second to none.