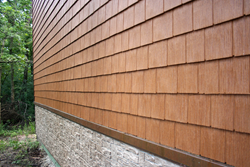 Our investment in "feet on the street" is a commitment we make to our dealers and distributors to ensure we have the sales professionals in place to meet their increasing business with the Tando and Novik lines." -- Ralph Bruno, President
Quebec City, Quebec (PRWEB) January 30, 2017
Derby Building Products, manufacturer of the new Tando brand of exterior cladding products, as well as the Novik brand, announced several new Territory Sales Managers hired to expand the Tando and Novik brands to the building products industry.
The new sales team members include Mark Breese, Kentucky; Dan Ripple, Southeast; Robert Ingham, New England and Denis Brilliant, Mid-Atlantic. In addition to supporting the legacy Novik brand, these experienced sales professionals will pull through the TandoShake and TandoStone product lines, that are low-maintenance, moisture resistant and right in line with today's mixed materials trend for home exteriors. Defining new categories in shake and stone, both Tando product lines have high levels of realism, durability and unmatched warranties with enhanced color and UV protection technologies.
The new territory sales managers have extensive experience and contacts in the building products industry. "Derby Building Products is dedicated to investing in our people, our innovative brands, Tando and Novik, as well as our state-of-the-art manufacturing facilities," said Ralph Bruno, President. "Our investment in "feet on the street" is a commitment we make to our dealers and distributors to ensure we have the sales professionals in place to meet their increasing business with the Tando and Novik lines."
To learn more about TandoShake and TandoStone, visit http://www.tandobp.com and to learn more about Novik, visit http://www.novik.com
About Tando
Tando represents the creation of something new and completely different in exterior cladding. An innovative product portfolio backed by the most advanced technologies in the industry. Tando takes exterior cladding to a new level by replicating the natural beauty and texture of wood and stone in a product line that promises virtually no upkeep, provides professional installers with the opportunity to create arresting mixed material finishes, all while addressing and mitigating the issues and concerns around moisture management. Tando products complement all types of siding including fiber cement, vinyl engineered wood, stucco, and brick. http://www.tandobp.com
About Novik
Novik® is the premier brand featuring NovikShake™, NovikStone™ and related products that completely reinvent luxury for your home. These products replicate the natural beauty and texture of wood and stone materials that are in demand for today's designs. With easy installation, low maintenance and exceptional performance, Novik products are a perfect fit for builders, contractors, facility managers and consumers who take pride in the aesthetic appearance of their home or building. For more information, visit http://www.novik.com.