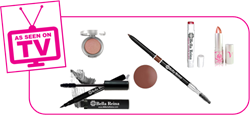 We believe there is a beautiful queen in everyone and our goal is to help you find her.
Delray Beach, FL (PRWEB) July 13, 2015
Bella Reina Cosmetics announced today that Derek Warburton, Interenational media personality and celebrity stylist, will feature the brand's makeup in an upcoming "Beach to Brunch" TV tour. The morning talk show tour is slated to cover Houston, Austin, San Antonio and San Diego markets.
Mr. Warburton has developed a loyal following of celebrities, fortune 500 brands and the TV viewing public across America. Whether on television or getting a celebrity ready to walk the red carpet Derek believes that looking good is feeling good.
"Derek's lighthearted, uplifting style ties well to our brand philosophy at Bella Reina," said Nancy Reagan, the makeup creator. "We believe there is a beautiful queen in everyone and our goal is to help you find her," added Reagan.
The TV tour will speak to viewers about summer leisure activities. Viewers will learn how to style from the beach to looking fabulous for brunch. The Bella Reina Cosmetics Kit will feature six of their best selling beach to brunch products that work for every woman.
The kit includes Waterproof Eyeliner, Waterproof Eyebrow Pencil, Water Resistant Mascara, Vegan Mineral Bronzer, Vegan, Gluten-Free Lipstick and an Organic Shimmer Lip Gloss. The "As Seen on TV" kit will be specially priced for a limited time on Mi Bella Reina.com.
For more information on Bella Reina Cosmetics or the "As Seen on TV with Derek Warburton" kit, click here.
About Bella Reina: Bella Reina is the leading spa provider and definitive authority on luxury beauty, wellness, and spa treatments. Bella Reina was created by Nancy Reagan, a nationally recognized expert in beauty, skin care, and makeup. Nancy and Bella Reina Spa have been featured in the New York Times, Beauty High, Daily Makeover, WebMD, and Les Nouvelles Esthetique for beauty, spa industry and business expertise. To learn more about how Bella Reina is constantly innovating both spa services, spa memberships and shopping for beauty, please visit BellaReinaSpa.com or MiBellaReina.com.