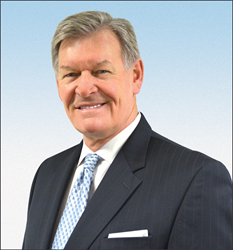 Clearwater, FL (PRWEB) March 26, 2014
Derek Richardson, with decades of experience in the financial services and insurance industries, was named President of AmeriLife's Brokerage Distribution. Mr. Richardson will work out of the Clearwater, FL-based insurance marketing group's corporate headquarters.
"My initial objective is to work closely with our national marketing companies to develop and enhance capabilities across all platforms," he said in a soft Scottish accent tempered by decades in America's west and south. "We intend to make an already strong and profitable organization peerless."
Educated at Scotland's historic University of Edinburgh and New York University, Mr. Richardson spent much of the 1980s working with companies such as Dean Witter Reynolds and Pru-Bache (Prudential Insurance Company of America). In the early 1990s he owned and operated insurance entities in Louisiana, Texas, Oklahoma and New Mexico.
In the late 1990s, Mr. Richardson moved to central Florida, running group sales for Humana®. In 2000, he founded and partnered a senior market-focused Field Marketing Organization (FMO) in Tampa, recruiting agents from throughout the south and southwest financial services sectors. His company specialized in annuities, long-term care and Medicare Supplement products.
Since 2006, Mr. Richardson has worked in the Medicare arena with both UnitedHealthcare® and Humana®, developing FMO relationships nationally.
"I'm confident Derek's experience and hands-on expertise will prove valuable as we expand our horizons," said AmeriLife's President and CFO Gary Jenkins. "My belief is that Derek will enhance our marketing and distribution capabilities and growth prospects."
AmeriLife is the nation's premier insurance marketing group. Founded in 1971, AmeriLife represents more than 30 national insurance carriers; has 15 individual national marketing organizations; 35 career agency branch locations; and works with thousands of independent insurance agents across the country.
For additional information about Derek Richardson or AmeriLife, please contact Director of Corporate Communications Wayne Shelor at 727.726.0726 or at wshelor(at)amerilife(dot)com.