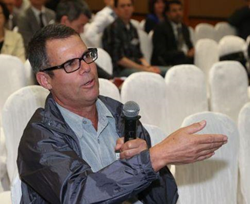 As many of our existing clients already know, Mr. Derish's recent focus is in Latin America.The new partnership with Panoramic increases Derish Associates' global reach to include Asia.
San Francisco, CA (PRWEB) August 09, 2014
Seth Derish and Mr. Kavowras have worked together for years on investigations around the globe. They recently firmed up this alliance when Mr. Derish attended the International Anti-Counterfeiting Coalition conference, which took place May 7-9 in Hong Kong. Also attending the conference were international law firms, U.S. and Asian law enforcement agencies, manufacturers' representatives, as well as the U.S. Consul General and his staff.
"As many of our existing clients already know, Mr. Derish's recent focus is in Latin America, as he lives and works in Costa Rica and is the District Director for Central America for the Council of International Investigators. The new partnership with Panoramic increases Derish Associates' global reach to include Asia," said Mary Nikas, Vice President and Chief Investigator for U.S. Operations.
While Panoramic specializes in detection and gathering of evidence against foreign counterfeiters, Derish Associates provides background intelligence on the individuals and corporations behind these crimes, offering victims the information they need to recover damages.
The Council of International Investigators is meeting in San Francisco on September 3-6, 2014. If interested in meeting with both Mr. Derish and Mr. Kavowras to discuss intellectual property needs, please call now to schedule a free consultation for that week. In addition, should one's firm have any needs in China or greater Asia, please contact Derish Associates for a free consultation at 415-648-7007or visit their website at http://www.privateeyes.com for a full list of services provided.
About Derish Associates:
Derish Associates, Inc. is a highly regarded investigative agency headquartered in San Francisco, California with offices in Chico California, Salem Oregon, and San Jose Costa Rica. The U.S. Operations are personally handled and directed by Mary Nikas, a San Francisco Bay Area native who joined the firm in 1994 after several years in the financial securities sector.
Mary specializes in financial and real estate fraud investigations and has exposed bankruptcy and mail fraud rings, money laundering schemes, and mortgage loan and escrow company fraud.
About Ted Kavowras:
Ted Kavowras is currently the Operations Manager of Panoramic Consulting Ltd. He is a retired police officer and a seasoned investigator, with years of experience in the U.S. Law Enforcement arena, working for the NYPD and with various Federal agencies.
Panoramic protects many major brands in China, and has developed a trusted working relationship with Hong Kong Customs officials and Police, and with the Chinese Public Security Bureau and Food & Drug Administration, to combat counterfeiting.
Ted has been featured as an anti-counterfeiting expert on many major networks and is frequently called upon to speak at worldwide conferences of lawyers, investigators and law enforcement.
About Seth Derish:
Seth Derish, a San Francisco native, opened his own investigation agency there in 1978 and has been continuously practicing since. In the 1980s, he worked with legendary personal injury attorneys Melvin Belli and Bob Cartwright; became an outside consultant to Security Pacific National Bank; and was an investigative advisor to The San Francisco Examiner, The San Francisco Chronicle and CBS local affiliate, KPIX News.
Seth assists local and national law firms in all types of cases, including: labor, environmental, personal injury, and financial fraud. He has worked on several murder cases for the San Francisco Public Defender's Office as an outside contractor; his most notable case, P. v. Luther Brock, involved eyewitness testimony that led to the exoneration of the client for murder.
About NALA™
The NALA is a full service marketing agency for local business owners offering new online advertising and small business marketing tools, great business benefits, education and money-saving programs, as well as a charity program.
PR Contact: Tiffani Tendell
ttendell(at)thenala(dot)com
805.650.6121, ext. 361