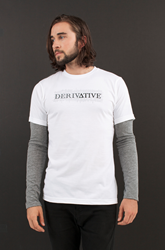 Sleeves just make sense.
Los Angeles, CA (PRWEB) October 13, 2014
Layering a long sleeve shirt under a short sleeve shirt has proven to be a timeless look seen at every college campus and sports bar in America probably since the t-shirt was invented. Newer in style are compression sleeves made popular by various NBA players and mainly seen in sports. Derivative® brand apparel combined both concepts and introduced their own line of arm apparel with a growing collection of sleeves that are both fashionable and functional.
Derivative® lives up to their name by differentiating themselves from more traditional spandex and nylon fabrics used in compression sleeves and uses softer cotton blend fabrics with a touch of spandex designed to comfortably conform to the arm. Derivative® has also stitched in a soft elastic band at the top to help prevent their sleeves from annoyingly slipping down the arm. From denim to leather to heather, Derivative® offers a variety of sleeve styles and plans to continuously introduce fresh new designs available on their online store, http://www.DerivativeApparel.com.
Easier to transport, and much more convenient to throw on or take off than an actual jacket, Derivative® sleeves just make sense. Derivative's thought is that there are more people in the stands than there are on the court and on an average day there are more people running late for class or work than there are 5k marathons. Derivative® owner, Justin Sena, jokes, "Sleeves may be a hard concept to spread because it's not obvious if someone is actually wearing them.
Look to Derivative® for sleeves and a collection of other innovative apparel and accessories.
###