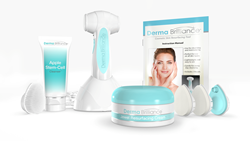 Kelvin Claney, CEO, Chairman and Founder of ICTV Brands stated, "I am thrilled with our recent positive international test and the future of DermaBrilliance.
Wayne, PA (PRWEB) August 18, 2015
ICTV Brands, Inc. (OTCQX: ICTV), (CSE: ITV), a direct response marketing and branding company focused on the health, wellness and beauty sector is pleased to announce a successful international media test of DermaBrilliance, a patented Sonic Exfoliation System which helps exfoliate and refine away signs of aging.
Multiple airings of the company's new DermaBrilliance international long form infomercial significantly outperformed their media efficiency ratio (MER) targets over the weekend of August 8th, 2015, as aired on several national Philippines cable networks. Based on this test, we are now prepared to roll this new international show out to our vast network of distributors. One of our largest distributors, based in Mexico, is very eager to test the show and we have already begun the process of translating this version of the show into Spanish.
ICTV plans to test the new Spanish translation in the U.S. Hispanic market directly as well. The plan is to test in the U.S. in September. Plans are also underway for a 4th quarter DermaBrilliance media test in English, both in the US and Canada, as well as a test in the French speaking Canadian market.
Additionally, as announced on our second quarter earnings call, DermaBrilliance will be returning to live home shopping on The Shopping Channel in Canada with four one-hour shows this Friday, August 21, 2015. The airings can be viewed on the TSC website (http://www.theshoppingchannel.com) and will occur at 8AM, 11AM, 4PM and 8PM EDT.
Kelvin Claney, CEO, Chairman and Founder of ICTV Brands stated, "I am thrilled with our recent positive international test and the future of DermaBrilliance. Through the persistence and hard work of our team, we are confident that we have found the correct marketing position of this product. With new international tests to come, our upcoming live home shopping event, and our repositioning of the product in the United States, I am confident that we will make DermaBrilliance as successful as the DermaWand!"
ICTV Brands, Inc.
ICTV Brands, Inc. sells various health, wellness and beauty products through a multi-channel distribution strategy. ICTV utilizes a distinctive marketing strategy and multi-channel distribution model to develop, market and sell products through direct response television (DRTV), Internet/digital, e-commerce, live television shopping and retail. Its products are primarily sold in the U.S. and available in over 60 countries. Its products include DermaWand, a skin care device that reduces the appearance of fine lines and wrinkles, and helps improve skin tone and texture, DermaVital, a professional quality skin care line that effects superior hydration, the CoralActives brand of acne treatment and skin cleansing products, and Derma Brilliance, a sonic exfoliation skin care system which helps reduce visible signs of aging, and Good Planet Super Solution, a multi-use cleaning agent. ICTV Brands, Inc. was founded in 1998 and headquartered in Wayne, Pennsylvania.
Forward-Looking Statements
Forward-Looking Statements. This press release contains "forward-looking statements" within the meaning of Section 27A of the Securities Act of 1933, as amended, and Section 21E of the Securities Exchange Act of 1934, as amended (the "Exchange Act") (which Sections were adopted as part of the Private Securities Litigation Reform Act of 1995). Statements preceded by, followed by or that otherwise include the words "believe," "anticipate," "estimate," "expect," "intend," "plan," "project," "prospects," "outlook," and similar words or expressions, or future or conditional verbs such as "will," "should," "would," "may," and "could" are generally forward-looking in nature and not historical facts. These forward-looking statements involve known and unknown risks, uncertainties and other factors which may cause the Company's actual results, performance or achievements to be materially different from any anticipated results, performance or achievements. The Company disclaims any intention to, and undertakes no obligation to, revise any forward-looking statements, whether as a result of new information, a future event, or otherwise. For additional risks and uncertainties that could impact the Company's forward-looking statements, please see the Company's Annual Report on Form 10-K for the year ended December 31, 2014, including but not limited to the discussion under "Risk Factors" therein, which the Company has filed with the SEC and which may be viewed at http://www.sec.gov.
Contact Information
Rich Ransom
ransom(at)ictvbrands(dot)com
484-598-2313
Ryan LeBon
lebon(at)ictvbrands(dot)com
484-598-2300, x318