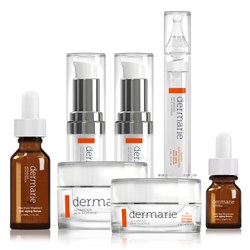 This new line is really exciting. Our clients are seeing excellent results. - Hollywood aesthetistician Jessie Anderson
New York, NY (PRWEB) February 18, 2014
Hopkins Blake LLC, has made a splash in the crowded skin care market with the advanced skin care technology in their highly-effective, clinically-validated skin care line, Dermarie.
The Hopkins Blake R&D team sourced the most advanced technology and most effective ingredients from nature and the laboratory, to employ in the Dermarie formulas. The Eye Illuminator + Vitamin K Anti-aging Eye Cream assails dark circles with the same grade of vitamin K used in hospitals for post operative bruising. The new Lumitox Acetyl Hexapeptide Anti-aging Facial Serum takes advantage of a new peptide complex that interrupts nerve signals that cause expression lines, like a topical Botox. Collagen Energizer Anti-aging Skin Serum works day and night to preserve and repair the skin's elasticity and firmness like no other product.
"This new line is really exciting. Our clients are seeing excellent results," said Hollywood aesthetistician Jessie Anderson.
Hopkins Blake's team of expert scientists developed the line from concept to market, including sourcing the ingredients worldwide, and coordinating clinical testing on all formulations for safety and efficacy. Many of the products contain patented technology.
The new Dermarie anti-aging line includes: Eye Illuminator Eye Cream, Eye Illuminator + Vitamin K Eye Cream, Collagen Energizer Eye Serum, Under Eye Illuminator Serum, Retinol Wrinkle Repair Cream, Ultra Pure Vitamin C Serum, Collagen Energizer Skin Serum, Lumitox Acetyl Hexapeptide Facial Serum, and Eye Illuminator Eye Cream and Collagen Energizer Eye Serum Treatment Set.
The new line launched globally in January 2014, and is already a hit among skin care professionals. The Dermarie line of products can be purchased online at dermarie.com, amazon.com, and through select dermatologists, plastic surgeons, medi-spas, and luxury professional skin care locations. For more information, log on to dermarie.com.
###
Dermarie is an exclusive skin care brand by Hopkins Blake LLC, an innovator in authentic, results-oriented, performance skin care solutions. Hopkins Blake's philosophy is to use the latest technology and the most effective ingredients possible, from nature and the laboratory, to give customers the best possible results.