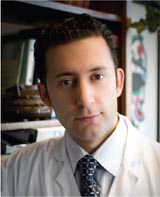 Los Angeles, CA (PRWEB) April 21, 2014
Los Angeles skin doctor Dr. Peyman Ghasri now offers skin cancer treatments using the latest treatment methods. Skin cancer affects thousands of people every year and is the most common kind of cancer in the United States. Nearly 62,000 people were diagnosed with Melanoma skin cancer in 2010, the most recent year for which statistics were available. More than 9.000 of them died. Basal Cell skin cancer and Squamous skin cancer are not as deadly as melanoma but are far more common.
About Dr. Peyman Ghasri, Dermatologist Los Angeles
A San Fernando Valley native, Dr. Ghasri attended UCLA and graduated magna cum laude. He received a full scholarship at UC Irvine School of Medicine, where he maintained a perfect record and graduated among the top of his class. He continued his studies in the fields of general surgery and plastic surgery, and he completed his dermatology residency at UC Irvine. Dr. Ghasri is a premier Los Angeles dermatologist whose work has been published in a variety of peer-reviewed journals, and he is a sought-after lecturer at both national and international meetings. He is a fellow of the American Academy of Dermatology and the American Society of Dermatologic Surgery. Dr. Ghasri provides Mohs surgery for treatment of skin cancer as well.
Monthly skin checks for skin cancer symptoms and annual dermatologist visits can help catch skin cancers at their earliest stages. Symptoms can include moles that change in size, shape, texture or other features. A red or other colored lesion that suddenly appears, a sore that does not heal, a pearly bump or an itchy or irritated spot can all warrant further evaluation. Los Angeles dermatologist, Dr. Peyman Ghasri, may recommend a biopsy. A biopsy can provide greater information about the cells and tissues involved and assist in providing an accurate diagnosis.
Skin cancer treatment can vary based on the type of cancer present and the location and size of the lesion. Surgical excision, electrodessication and curettage, cryosurgery and laser surgery are all available. Some patients may benefit from photodynamic therapy, radiation therapy or topical chemotherapy drugs. Dr. Ghasri also offers Mohs micrographic surgery, one of the most advanced treatments available today.