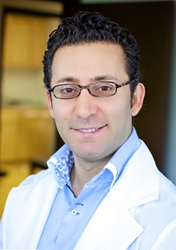 Los Angeles, CA (PRWEB) June 24, 2014
Dermatologist in Los Angeles, Dr. Peyman Ghasri, is now offering CoolSculpting. CoolSculpting is a revolutionary body sculpting procedure that can sculpt the body and help rid people of unwanted fat deposits. The procedure can be performed without the need for anesthetic, needles or painful recovery, and most patients are able to return to their regular daily activities immediately after treatment.
About Dr. Peyman Ghasri, Expert in CoolSculpting Los Angeles
Dr. Peyman Ghasri is an elite Los Angeles dermatologist. He was raised in the San Fernando Valley and attended UCLA, from which he graduated magna cum laude. Dr. Ghasri attended UC Irvine School of Medicine with a full scholarship and maintained a perfect academic record, which enabled him to graduate among the top of his class. After additional training in general and plastic surgery, Dr. Ghasri completed a dermatology residency at UC Irvine. Since then, Dr. Ghasri has been extensively published in various peer-reviewed journals and has presented at national and international medical meetings. Today, Dr. Ghasri is a fellow of the American Academy of Dermatology and the American Society of Dermatologic Surgery, a diplomat of the American Board of Dermatology and a member of the American Society of Mohs Surgery. He offers various medical and cosmetic dermatology treatments, including chemical peels, Botox, Dysport, Juvederm, Radiesse and more.
CoolSculpting has been FDA-cleared and shown to have significant results. It is not a treatment for obesity but is an extremely effective treatment option for patients who are within 10 to 15 pounds of their desired body weight who have unwanted bulges on their thighs, hips and abdomens. These stubborn fat deposits can be quite difficult to lose with diet and exercise alone but often respond quite well to CoolSculpting. Check out these CoolSculpting before and after images to see the results that can be achieved with this treatment.
Patients who are candidates for CoolSculpting can usually complete the procedure in a single one-hour appointment. The CoolSculpting process causes the fat cells to crystallize, and the body will gradually eliminate them. Results become more visible over the next several weeks, and most patients will see their full results within two to four months. Side effects can include numbness, tingling and discomfort, but these are usually mild and self-limiting. Dr. Ghasri, Los Angeles dermatologist, can help patients learn more about available treatment options and determine if CoolSculpting is right for their needs.