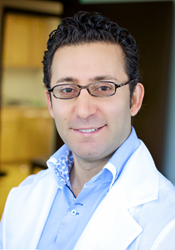 San Fernando Valley, CA (PRWEB) May 27, 2015
For a limited time, San Fernando Valley skin doctor, Dr. Peyman Ghasri, is now offering discounts on facial fillers. Skin loses more than 2 percent of its collagen every year after the age of 18. This lost collagen can lead to thinning or sagging skin, thinner lips, hollow eyes, sunken cheeks, wrinkles and expression lines. Facial fillers are an excellent way to plump skin and restore that lost volume. Many people turn to facial fillers to create a softer and more youthful appearance, without the need for more invasive surgical procedures.
San Fernando Valley Juvederm expert, Dr. Peyman Ghasri, is known for his attention to detail, artistic eye and excellence in patient care. He graduated from UCLA magna cum laude with several merit scholarships and awards. After completing his degree at UC Irvine School of Medicine, Dr. Ghasri continued his studies in the fields of medical, cosmetic and surgical dermatology. He is a recognized expert in the dermatology field with a large body of work published in peer-reviewed and dermatology journals. Dr. Ghasri is a member of the American Board of Dermatology, a member of the American Society of Mohs Surgery and a fellow member of the American Society of Dermatologic Surgery and the American Academy of Dermatology.
"(Dr. Ghasri's) special interests are in surgical dermatology as well as various cosmetic procedures, notably in facial contouring, utilizing the appropriate soft tissue fillers and Botox in combination with lasers," his team explains. This special allows patients to take an advantage in exploring their options with facial fillers and other treatments at a reduced price. Patients can choose either $100 off the 2nd syringe of any filler or $100 off the combination of Botox and Dysport.
Available facial fillers include:

These fillers are used to plump and soften the look of skin. They can add contour to cheeks and lips, and can smooth expression lines. Botox and Dysport are also available and can relax deep expression lines and muscles to make them less noticeable. Dr. Ghasri not only offers facial filler, but a wide range of cosmetic procedures and treatments, including Ultherapy, chemical peels, CoolSculpting, laser hair removal, CO2 laser resurfacing and fractional laser resurfacing.