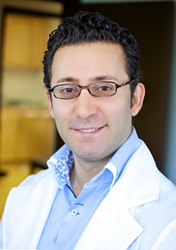 Tarzana, CA (PRWEB) April 12, 2016
Eczema is the most common inflammatory skin disease in the world, and most of those affected are colonized by Staphylococcus aureus, or staph infection. Some are also infected by eczema herpeticum. Researchers recently evaluated subjects to identify new biomarkers that they hoped could help them improve diagnosis and better predictions for disease susceptibility and pathogenesis. Dermatologist, Dr. Peyman Ghasri, comments on the results of the study, which now links natural skin acids to eczema.
During the study, which was outlined in "The Journal of Allergy and Clinical Immunology," participants included those with and without eczema between the ages of one and 80. A total of 65 participants were included, and skin tapings were collected from both lesions and healthy skin. Researchers found that up to 90 percent of patients with eczema were colonized with S aureus and 16 percent with MRSA. Those with eczema herpeticum were significantly more likely to be colonized with MRSA.
Researchers found that there were also other significant differences between the group with eczema and the group with healthy skin. The skin serves as the first line of defense between the body and the outside world. Any break in the skin compromises its integrity and could allow pathogens to enter the body. Abnormalities in the epidermis, including fewer barrier proteins to protect against water loss and fewer oils, can promote the development of eczema. A greater expression of fatty acid-binding proteins in those with MRSA could trigger a heightened inflammatory response.
About Dr. Ghasri
Dr. Peyman Ghasri graduated from UCLA before attending UC Irvine School of Medicine. He was trained in general and plastic surgery at UCLA and completed a dermatology residency at UC Irvine. Today, Dr. Ghasri is a member of the American Society of Mohs Surgery, a diplomate of the American Board of Dermatology and a fellow of the American Academy of Dermatology and the American Society of Dermatologic Surgery.
Dr. Pedram Ghasri is a board-certified dermatologist who graduated from UCLA with a BS in neuroscience. He completed his medical degree at the University of California, Irvine, and was elected to the Alpha Omega Alpha medical honor society. His dermatology residency was completed at UC Irvine, during which he was named Chief Resident. The doctor welcomes patients from Tarzana, Calabasas, Studio City, and the surrounding areas.
Source: http://www.jacionline.org/article/S0091-6749(10)01648-9/abstract