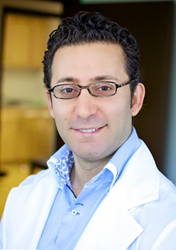 Tarzana, CA (PRWEB) October 21, 2014
Tarzana dermatologist, Dr. Peyman Ghasri, has recently been featured on Ventura Blvd Magazine. The interview covers a variety of topics, including the approach with which Dr. Ghasri treats patients, the areas in which Dr. Ghasri specializes, the history of his dermatology practice, and the staff members who help make Castle Dermatology special. Dr. Ghasri notes in the interview that he often receives compliments for how calm he makes patients feel during their treatment. The new location of Castle Dermatology and its many new features are also discussed.
Dr. Ghasri says in the interview that his ability to customize care for all individuals is one of the keys to his style of dermatology. At the new Castle Dermatology, more space and several new features enhance the experience of patients who visit Dr. Ghasri. Features of the new location include:

10 exam rooms, with six reserved for laser treatments
Several new skin care products for a variety of procedures
Cutting-edge software for scheduling appointments and organizing medical records
Complimentary parking as well as valet parking
Procedures offered by Dr. Ghasri address a variety of dermatological conditions and cosmetic issues. Treatment for rosacea, psoriasis, acne, hair loss, and skin cancer is available at Castle Dermatology. Cosmetic treatments for enhancement of skin appearance and concealment of flaws include Juvederm, Restylane, Botox, and Radiesse. Patients can have varicose veins removed with sclerotherapy and vascular laser treatment, and patients can eliminate unwanted hair permanently with laser hair removal. CoolSculpting, a new non-invasive treatment that removes unwanted fat deposits, is also offered on site.
Tarzana dermatologist, Dr. Peyman Ghasri, graduated magna cum laude from UCLA after growing up in the San Fernando Valley. He received a full scholarship to attend medical school at the University of California Irvine before going on to specialize in plastic surgery and general surgery at UCLA. Finally, Dr. Ghasri completed a residency in dermatology at UCLA. A reputable member of professional organizations in his field, Dr. Ghasri offers patients a unique approach to skin treatment that draws on his experience in both dermatology and plastic surgery.