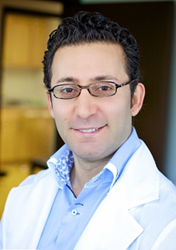 Tarzana, CA (PRWEB) March 15, 2016
Double chins are a common problem. Although they are often associated with excess weight, they can also be age-related or genetic. Unfortunately, they can significantly detract from a person's overall appearance and leave people looking older or heavier than they are. Kybella is a treatment that can improve the appearance of a double chin. For a limited time, San Fernando Valley skin doctors, Dr. Peyman Ghasri and Dr. Pedram Ghasri, are now offering a promotion on Kybella.
Available treatments include not just Kybella but also:

Botox and Dysport
Chemical peels
Juvederm, Radiesse and Restylane
Sclerotherapy
Laser hair removal
CoolSculpting
Ultherapy skin tightening
CO2 laser resurfacing
Fractional laser resurfacing
Kybella's active ingredient is Deoxycholic acid, which occurs naturally in the body. Deoxycholic acid is critical for using and absorbing fat from dietary sources, and when it is injected into pockets of fat accumulation, such as a double chin, the fat cells in that location are destroyed and naturally absorbed and eliminated by the body. San Fernando Valley dermatologist Dr. Frame will need a consultation to determine individual patient's candidacy, but most people who are healthy and clear of infection who have double chins can benefit from this procedure.
The only FDA-approved injection for treating under-chin fat, Kybella can slim a bulky under-chin area and add more youthful contours to the chin. The procedure may be repeated over the course of several months, and most patients achieve their desired results with just two to four sessions spaced one month apart. Once patients have achieved their desired look, there will be no need to repeat the procedure, as results are permanent.
About Dr. Peyman Ghasri
Dr. Ghasri is a member of the American Academy of Dermatology, a fellow of the American Society of Dermatologic Surgery, a diplomate of the American Board of Dermatology and a member of the American Society of Mohs Surgery. A graduate of UCLA, Dr. Ghasri completed his dermatology residency at UC Irvine and has received additional training in both general and plastic surgery. He is an avid researcher whose work has been published in dermatologic journals and various peer-reviewed journals.
"Dr. Ghasri takes pride in drawing on his artistic creativity gained through his unique training. His special interests are in surgical dermatology as well as various cosmetic procedures, notably in facial contouring, utilizing appropriate soft tissue fillers and Botox in combination with lasers," his team said.