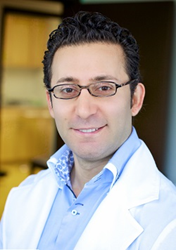 San Fernando Valley, CA (PRWEB) August 04, 2016
Dermatologist in San Fernando Valley area, Dr. Peyman Ghasri, is now offering a variety of cosmetic procedures to improve skin problems. Cosmetic skin problems can range from age-related issues such as wrinkles, sagging, and thinning skin to skin defects such as scars, broken blood vessels and other abnormalities. The right treatments can dramatically improve the appearance of skin and give patients the smooth, attractive complexions they desire.
"The main causes of aging are due to two primary sources: the natural decreasing elasticity of the skin with increasing age and sun exposure," according to Dr. Ghasri's team. "Collagen formation and elastic tissue formation is decreased as a person ages." As collagen and elastin decline, skin becomes thinner. It may begin to sag, and wrinkles become more obvious. Expression lines frequently form in areas where frequent muscle contractions occur. The fat layer beneath the skin can also decrease, leading to a hollow appearance. This can be most noticeable around the eyes, beneath the cheeks and around the lips.
Dr. Ghasri offers a wide range of treatment options, which include:

Botox and Dysport
Chemical peels
Juvederm and Juvederm Voluma XC
Radiesse
Veins treatment and Vascular Laser Therapy
Laser hair removal
CO2 laser resurfacing and fractional laser resurfacing
Kybella
These treatments can be used individually or combined to address rough texture, thin skin, lost volume, age spots, wrinkles, expression lines, broken blood vessels, spider veins, scars, and other common skin problems.
About Dr. Ghasri
Dr. Peyman Ghasri is a San Fernando Valley native. He graduated magna cum laude from the University of California, Los Angeles, and received a full scholarship to UC Irvine School of Medicine, from which he graduated with a perfect academic record. After medical school, Dr. Ghasri completed additional training in plastic and general surgery at UCLA and completed his dermatology residency at UC Irvine. Today, he is a member of the American Society of Mohs Surgery, a fellow of the American Academy of Dermatology, a diplomate of the American Board of Dermatology, and a fellow of the American Academy of Dermatologic Surgery.