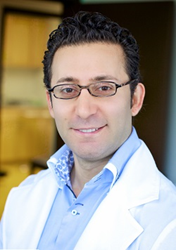 San Fernando Valley, CA (PRWEB) February 21, 2017
San Fernando Valley dermatologist, Dr. Ghasri, and Castle Dermatology Institute are now offering Volbella to enhance lips. Juvederm Volbella is a hyaluronic acid-based dermal filler that improves the contour of lips while smoothing smoker's lines, increasing symmetry, and boosting volume. With just one treatment, patients can enjoy smoother, softer, more voluptuous lips.
Volbella lip enhancement contains a lower concentration of hyaluronic acid, which allows for less swelling, while using Allergan's proprietary Vycross technology for ultra-smooth, natural-looking results. Lidocaine is added to the injections for maximum comfort and less downtime. Volbella's results can last up to twelve months and can be repeated as desired.
Dr. Ghasri can use Volbella to:

Reduce smoker's lines and vertical lip lines
Create plumper, fuller-looking lips
Augment the cupid's bow
Enhance the border of the lips
Restore lost lip volume
Volbella can even be combined with other procedures to rejuvenate and revitalize the entire facial area. "At Castle Dermatology Institute, we customize skin care treatments to each patient's unique needs," the team says. "We strive to achieve the most optimal results while providing the most comfortable experience by using the most cutting edge diagnostic measures and treatment options." Dr. Ghasri offers many options, including chemical peels, Botox, Juvederm, Ultherapy, laser resurfacing, and Kybella. Dr. Ghasri also offers medical dermatology treatments, including those for eczema, warts, rosacea, and skin cancer.
About Drs. Peyman and Pedram Ghasri
Since completing his medical, general, and plastic surgery training and dermatology residency at UCLA and UC Irvine, Dr. Peyman Ghasri has been practicing medical and cosmetic dermatology. He is widely published in dermatology journals and frequently presents and speaks at national and international meetings. He is a diplomate of the American Board of Dermatology and a fellow of the American Society of Dermatologic Surgery.
His partner, Dr. Pedram Ghasri, is also a graduate of UCLA. Dr. Pedram Ghasri attended UC Irvine as a Regents Scholar and completed his residency there, as well. Dr. Ghasri specializes in cosmetic, medical, and surgical dermatology.