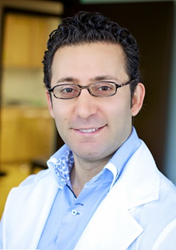 San Fernando Valley, CA (PRWEB) January 13, 2016
It is not often that sugar is found to have health benefits. In fact, excessive sugar consumption has been linked to weight gain, insulin resistance, dental disease, obesity, liver failure and some types of cancer. However, new research has revealed that a specific type of natural sugar may help in the battle against melanoma. San Fernando Valley dermatologist Dr. Peyman Ghasri comments on this new research about diet and skin cancer.
The rare sugar, which is found in mushrooms, seeds, seaweeds and some other types of food, is called L-fucose. When scientists adjust the metabolism of L-fucose, they are able to inhibit the metastasis of melanoma tumors and change the cells around the tumor to make the cancer less able to sustain itself. According to the research, L-fucose is used by the body to direct cell migration and signal inflammation. Researchers found that when melanoma cells were free of L-fucose, they were more mobile and more likely to metastasize. By adding the special sugar to the water of mice, researchers were able to inhibit both tumor growth and metastasis. Additionally, adding this special sugar may also help stimulate the growth of new immune cells.
Dr. Ghasri offers melanoma skin cancer screenings and treatments as well as comprehensive skin care ranging from acne and Botox to dermal fillers and laser treatments. "Dr. Ghasri takes pride in drawing on his artistic creativity gained through his unique training. His special interest is in surgical dermatology as well as various cosmetic procedures notably in facial contouring, utilizing the appropriate soft tissue fillers and Botox in combination with lasers," his team explained.
About Dr. Peyman Ghasri, Mohs Surgeon San Fernando Valley
Dr. Ghasri is a graduate of UCLA and UC Irvine School of Medicine. He completed his residency at UC Irvine and has since been an active researcher. His work has been published in a variety of peer-reviewed journals, and he has presented at the international meeting of the American Society for Laser Medicine & Surgery. Today, Dr. Ghasri is a member of the American Society of Mohs Surgery, a diplomate of the American Board of Dermatology and a fellow of the American Academy of Dermatology and the American Society of Dermatologic Surgery.
Source: http://medicalxpress.com/news/2015-12-dietary-sugar-melanoma-metastasizing.html