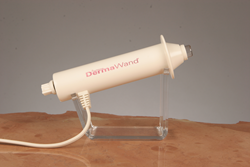 Rich Ransom, President of ICTV Brands, stated, "We are very proud to have started our national retail rollout of DermaWand with Rite Aid. It is an ideal marketplace for our product and important part of our distribution sales strategy as our distribution
Wayne, PA (PRWEB) October 30, 2014
ICTV Brands, Inc. (ICTV), (CSE: ITV), a direct response marketing and branding company focused on the health, wellness and beauty sector, announced today that its flagship product, DermaWand, is now available at nearly 4,000 Rite Aid locations across the US.
DermaWand can be found within the Cosmetics or "As Seen On TV" sections at the Rite Aid locations. Many of the stores are prominently displaying DermaWand on endcaps. Additionally, DermaWand will be appearing in approximately 4 weekly Rite Aid print advertisements from November through January.
Rich Ransom, President of ICTV Brands, stated, "We are very proud to have started our national retail rollout of DermaWand with Rite Aid. It is an ideal marketplace for our product and important part of our distribution sales strategy as our distribution channels continue to grow. After spending more than $20 million over the past 3 years on direct response marketing, we believe there is great growth opportunity in traditional retail for DermaWand."
Rite Aid, Inc.
Rite Aid Corporation (RAD) is one of the nation's leading drugstore chains with nearly 4,600 stores in 31 states and the District of Columbia and fiscal 2014 annual revenues of $25.5 billion. Information about Rite Aid, including corporate background and press releases, is available through the company's website at http://www.riteaid.com.
ICTV Brands, Inc.
ICTV Brands, Inc. sells various health, wellness and beauty products through a multi-channel distribution strategy. ICTV utilizes a distinctive marketing strategy and multi-channel distribution model to develop, market and sell products through direct response television (DRTV), Internet/digital, e-commerce, live television shopping and retail. Its products are primarily sold in the U.S. and available in over 35 countries. Its product include DermaWand, a skin care device that reduces the appearance of fine lines and wrinkles, and helps improves skin tone and texture; DermaVitál, a professional quality skin care range that effects superior hydration; CoralActives, a line of acne treatment and skin cleansing products. ICTV Brands, Inc. was founded in 1993 and headquartered in Wayne, Pennsylvania.
Forward-Looking Statements
Forward-Looking Statements. This press release contains "forward-looking statements" within the meaning of Section 27A of the Securities Act of 1933, as amended, and Section 21E of the Securities Exchange Act of 1934, as amended (the "Exchange Act") (which Sections were adopted as part of the Private Securities Litigation Reform Act of 1995). Statements preceded by, followed by or that otherwise include the words "believe," "anticipate," "estimate," "expect," "intend," "plan," "project," "prospects," "outlook," and similar words or expressions, or future or conditional verbs such as "will," "should," "would," "may," and "could" are generally forward-looking in nature and not historical facts. These forward-looking statements involve known and unknown risks, uncertainties and other factors which may cause the Company's actual results, performance or achievements to be materially different from any anticipated results, performance or achievements. The Company disclaims any intention to, and undertakes no obligation to, revise any forward-looking statements, whether as a result of new information, a future event, or otherwise. For additional risks and uncertainties that could impact the Company's forward-looking statements, please see the Company's Annual Report on Form 10-K for the year ended December 31, 2013, including but not limited to the discussion under "Risk Factors" therein, which the Company has filed with the SEC and which may be viewed at http://www.sec.gov.
Contact Information
ICTV Brands
Rich Ransom
ransom(at)ictvbrands.com
484-598-2313
Hayden IR
hart(at)haydenir.com
917-658-7878
Kirk Gamley
Contact Financial Corp.
Phone: 604-689-7422
E-mail: kirk(at)contactfinancial.com