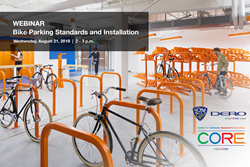 "Bike parking isn't complicated." said Lou Fineberg, National Advocacy Accounts Manager for Dero. "But like anything without experience and knowledge, it's easy to get wrong. Our webinar enables participants to provide facilities that serve their end users well."
CHATTANOOGA, Tenn. (PRWEB) August 16, 2019
Dero, a PlayCore company, and PlayCore's Center for Outreach, Research and Education (CORE) will be hosting a complimentary webinar on bike parking standards and installation on August 21, 2019 at 2 p.m. EST
Designed for biking advocates, architects, landscape architects, engineers, city planners, and recreation and park professionals, this one-hour webinar will address the growing need for bike storage facilities in communities, businesses, and residential properties. In addition, a fundamental approach to comprehensive bike parking standards and installation including information on how to select the right equipment and how to adequately preparing the space, will be covered.
The growth of bike use for transportation has increased significantly in the past decade and as a result, deliberate attention to bike parking is needed now more than ever. Bike storage facilities have become an integral part of new developments and are touted as a premium asset in commercial and residential properties. The Bike Parking Standards and Installation session provides the expertise to improve bike storage to meet the needs of both the developer and the end user.
"Bike parking isn't complicated." said Lou Fineberg, National Advocacy Accounts Manager for Dero. "But like anything without experience and knowledge, it's easy to get wrong. Our webinar enables participants to provide facilities that serve their end users well."
CEUs for a total of 1 Professional Development Hours (.1 IACET / 1 LU AIA/ 1 PDH LA CES), educational resources, and a Certificate of Completion will be provided by PlayCore's CORE.
Registration and information for this webinar and other events can be viewed at playcore.com/events.
The instructors of this learning event are employed by PlayCore and disclose interest in participants partnering with PlayCore on their play and recreation initiatives.
About PlayCore:
PlayCore is a purpose driven Company committed to building stronger communities around the world by advancing play and recreation. The company infuses scholarly learning, through its Center for Outreach, Research, and Education, into its comprehensive family of brands. PlayCore combines best-in-class educational programming with the most comprehensive portfolio of play and recreation products and services to create tailored solutions that match the unique needs of each community served. Learn more at http://www.playcore.com.
About Dero:
Since 1995, Dero has been supplying innovative bike parking and bicycle transit solutions to architects, contractors, municipalities, higher education, and parks and recreation. Its bike racks, repair stands and pumps, shelters, and lockers are high quality, thoughtfully designed, and secure. Dero also offers the award-winning Dero ZAP, an automatic system to track bike commuters. Dero, a PlayCore company, is located in Minneapolis and is proud to support biking locally and nationally. Dero is recognized as a Platinum level Bicycle Friendly Business℠ by the League of American Cyclists.