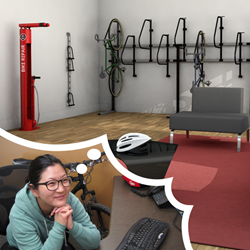 Minneapolis, MN (PRWEB) March 03, 2014
Dero is proud to announce its first Pinterest contest. Registrants will have a chance to win a Dream Bike Room for their workplace or residential building – up to $7,500 in Dero products and $1,000 to decorate and furnish the space.
Starting March 3, 2014, individuals are able to register to win at http://www.dero.com/dreambikeroom. Here are the contest steps:
1. Fill out the official online entry form and submit a photo of your pre-Dream Bike Room space.
2. Log into Pinterest and create your own board titled "Dero Dream Bike Room."
3. Check out Dero's Pinterest for ideas.
4. Find images that inspire the design of your Dream Bike Room and motivate you to bike, then pin them to your Dero Dream Bike Room board.
Dero staff will select 2-3 finalists from all eligible entries received. The finalists' Dero Dream Bike Room Pinterest boards will be posted online, where the public will be able to view and vote for their favorite. The winner will be notified at the end of April 2014.
No purchase necessary. Pinterest boards must be completed by Tuesday, April 1, 2014 at 11:59pm CST. Must be U.S. resident and 18 years of age or older to enter. Read official rules at http://www.dero.com/dreambikeroom.
About Dero
Since 1995, Dero has been supplying innovative bike parking and bicycle transit solutions to architects, contractors, municipalities, higher education, and parks and rec. Its bike racks, repair stands and pumps, shelters, and lockers are high quality, thoughtfully designed and secure. Dero also offers the award winning Dero ZAP, an automatic system to track bike commuters. Dero is located in Minneapolis and is proud to support biking locally and nationally.