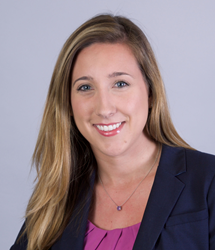 We are pleased to bring Miranda's experience in managing solar interconnections to our complex solar design projects. She can easily navigate utility requirements and interconnections at the front end of projects," said Brian Dersch
SAN DIEGO, Calif. (PRWEB) April 11, 2017
Dersch Design & Engineering (DDE) has named Miranda Goar P.E. Electrical Engineer. The San Diego-based engineering firm specializes in electrical engineering, building construction / renovation, renewable energy, and microgrids. Goar received her designation as a Professional Engineer in Electrical Power December 2016. She is licensed in the State of California.
In her position, Goar designs power and lighting systems for commercial customers, government agencies, and utilities. Goar's strength is in renewable energy and utility scale solar power systems. As an experienced project engineer, she works directly with the customer to value engineer projects for the client's specific goals. She addresses each stage of design with a high degree of detail and is constantly looking for ways to improve. She serves as DDE's utility interconnection liaison and is a great asset when navigating interconnection challenges.
Prior to joining Dersch Design in November 2015 as an Electrical Designer, Goar held the position of Energy Services Engineer III at Tucson Electrical Power in Tucson, Arizona. She project-managed distributed generation interconnections while serving as a renewable energy technical expert for multiple utility scale photovoltaic installations. Goar was responsible for managing designs and design reviews, interconnection studies, permission to operate, and acted as a key customer interface.
Goar attended University of Arizona where she received her Bachelor of Science degree in Engineering Management with a minor in Material Science and Engineering, focused on renewable energy. During this time, she served as both president and vice president of the American Society of Engineering Management (ASEM).
"At Dersch Design we pride ourselves in being engineers you can hold a conversation with. Miranda does just that – she is personable and positive. Her knowledge, drive, and enthusiasm supports our goals for continued growth," said Dersch Design & Engineering Founder and President, Brian Dersch, P.E., LEED AP. "We are pleased to bring Miranda's experience in managing solar interconnections to our complex solar design projects. She can easily navigate utility requirements and interconnections at the front end of projects due to her prior utility company work experience."
To learn more about Dersch Design & Engineering, visit http://www.derschdesign.com.
About Dersch Design & Engineering
Founded in 2013 by electrical engineer Brian Dersch, P.E., LEED AP, Dersch Design & Engineering, Inc. is a professional, proactive, and approachable Small Business S-Corporation, certified Small Local Business Enterprise (SLBE) in San Diego, California. The engineering firm teams up with structural engineers, general contractors, and architects to solve complex engineering design challenges for commercial, higher education, government, and renewable energy / microgrid projects. As licensed professional engineers, DDE has a broad range of experience in many engineering disciplines, with specialization in electrical engineering, building construction / renovation, lighting, renewable energy, and microgrids. DDE is licensed to perform engineering services in the following states: Arizona, California, Colorado, Hawaii, and New York. For more information, visit http://www.derschdesign.com.