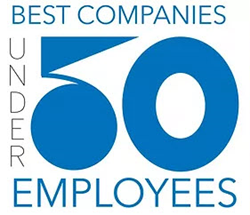 Our vision for the future is to continue our team's expansion by onboarding experienced engineers who thrive on tackling complex engineering challenges, while also continuing to give back to the community through outreach programs," said Brian Dersch
SAN DIEGO (PRWEB) September 15, 2020
Dersch Design & Engineering (DDE) is pleased to announce SD Metro Magazine recognized it as one of San Diego's Best Companies Under 50 Employees to Work For. Announced in its February 25, 2020 issue, the judges selected ten companies for this prestigious honor. The criteria included the company's benefits program, corporate culture, career advancement opportunities, open door, safety, security policies, and community involvement.
DDE is an award-winning electrical engineering firm. It is a Small Business S-Corporation and certified City of San Diego Emerging Local Business Enterprise (ELBE). Its experienced engineers team up with architects, owners, engineers, and contractors to solve complex engineering design challenges for public and private sector construction projects, emphasizing renewable energy, and microgrid designs.
Forecasting continued growth, DDE relocated in January to Sky Park Office Plaza in Kearny Mesa. The new location provides ample parking with easy access to the I-15 / Hwy. 163 corridor. The move increases the office square footage and contributes to a smoother commute for employees and client on-site meetings. Currently, team members work remotely due to COVID-19 precautions.
DDE ranked four consecutive years (2017, 2018, 2019, 2020) on the San Diego Business Journal's Top Engineering Firms list. Rank is based on the number of local full-time licensed engineers. Senior electrical designer, Edward Dee, recently passed his PE exam, bringing DDE's team of licensed electrical professional engineers to four.
As an engineering firm with Department of Defense experience, DDE was an integral part of an interdisciplinary team of architects and engineers on the Naval Air Weapons Station (NAWS) China Lake Earthquake Damage Assessment. In July 2019, two major earthquakes struck the area. Based on the evaluation, Naval Facilities Engineering Command (NAVFAC) Southwest anticipates a $2.9B budget over the next two years to design, repair, and construct damaged facilities.
As an experienced prime engineering on-call consultant for the University of California San Diego (UCSD), over the last year, DDE added on-call agreements with Vista Unified School District, Sweetwater Union High School, the City of El Cajon, and the USDA Forest Service.
Founder and CEO Brian Dersch, P.E., LEED AP continues to contribute to six industry associations. Dersch is on the Boards of the Society of American Military Engineers (SAME) and the San Diego Post and the Construction Management Association of America (CMAA). He is also actively involved in the San Diego Green Building Council (SDGBC), Society for Marketing Professional Services (SMPS), the American Council of Engineering Companies (ACEC), and the National Electrical Contractors Association (NECA).
For SAME, Dersch assisted in planning the 2019 Camp Pendleton Day Transitioning Military to Career (TMTC) event. The event helps troops find careers in the AEC industry as they transition from active duty to civilian life.
To continue his leadership growth, Dersch participates in the CALTRANS Calmentor / Protege program. The program encourages and supports small businesses through voluntary partnerships with mid-size and larger firms. Specifically, the program aims to increase small Architectural and Engineering (A&E) firms' participation in public transportation projects in the San Diego region.
In addition, Business Development Manager, Erik Sadlicki, serves on the Society for Marketing Professional Services (SMPS) 2021 Marketing Committee.
"As the COVID-19 pandemic continues to pose significant challenges for businesses, DDE is managing to overcome obstacles and focus on a positive trajectory. In addition to our Best Places to Work milestone, 2019 and 2020 have turned out to be exceptional years for us, with our involvement in SAME, CMAA, and Vistage being critical to our success," said Dersch. "As we continue our sustained growth, our number one priority is to keep providing our clients with outstanding engineering services from the best and brightest engineers committed to developing the future of the renewable energy industry and our nation's infrastructure. Our vision for the future is to continue our team's expansion by onboarding experienced engineers who thrive on tackling complex engineering challenges, while also continuing to give back to the community through outreach programs such as meal service at the San Diego Rescue Mission."
To learn more about Dersch Design & Engineering, visit https://www.derschdesign.com/.
About Dersch Design & Engineering
Founded in 2013 by electrical engineer Brian Dersch, P.E., LEED AP, award-winning Dersch Design & Engineering, Inc. is a professional, proactive, and approachable Small Business S-Corporation. It is a certified City of San Diego Emerging Local Business Enterprise (ELBE). The San Diego Business Journal recognized DDE as one of San Diego's 2019 Top 100 Fastest-Growing Private Companies, and SD METRO magazine honored DDE as a 2020 Best Company Under 50 Employees to Work For. As licensed professional engineers, the firm has a broad range of experience in engineering disciplines, with specialization in electrical engineering, building construction/renovation, lighting, renewable energy, and microgrids. DDE is licensed to perform engineering services in the following states: Arizona, California, Colorado, District of Columbia, and Hawaii. For more information, visit https://www.derschdesign.com