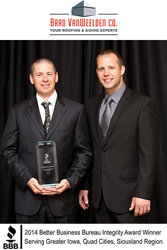 DES MOINES, Iowa (PRWEB) April 29, 2014
Brad Van Weelden Co., a general contractor with a diverse offering of roofing, siding and alternative exterior home improvement services here and throughout Iowa, has been recognized as a 2014 Better Business Bureau Integrity Award Winner by the Better Business Bureau Serving Greater Iowa, Quad Cities and Siouxland Region.
The Better Business Bureau (BBB) Integrity Awards were created in 1993 to publicly recognize organizations and businesses for dealing fairly, honestly and ethically in the marketplace. Trust, reliability and ethics are among characteristics sought by the BBB in terms of establishing criteria for the awards with application materials judged by an independent panel of community volunteers.
To qualify for a 2014 BBB Integrity Award, eligible businesses that were nominated by a client, of at least three years in age and in good standing with the BBB were asked to submit a narrative along with supportive documentation related to their marketing and communications practices, reputation in the industry and community, and relations with customers, vendors, suppliers and employees.
"We are both excited and honored to receive this award," said Brad Van Weelden Co. President Brad Van Weelden, who accepted the award on behalf of his company during a BBB awards ceremony, Thursday, April 24, at the Downtown Des Moines Marriott Hotel.
"Our staff and crews were humbled to learn that we were nominated by a customer for a 2014 BBB Integrity Award. We feel like this award validates our ongoing commitment to our clients and our community. We've always been proud of our A+ rating with the BBB, and we've worked hard to maintain a professional reputation while dealing respectfully with our clients, vendors, and employees."
About Brad Van Weelden Co.
Brad Van Weelden Co. is a Des Moines, Iowa-based general contractor with 17 years of qualified experience in all aspects of the exterior home improvement industry. Recommendations and word-of-mouth reviews are at the heart of Brad Van Weelden Co., which utilizes best practices during the marketing and bidding processes while employing electronic client-surveying tools to ensure the highest level of customer satisfaction at the completion of every job. Brad Van Weelden Co. maintains trusted relationships with leading manufacturers and stays up to date on the latest trends in the modern installation of roofing systems, siding systems, windows, doors, decks, gutters and more.