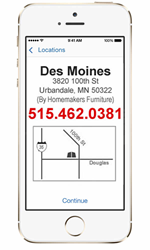 Certified Mac Technicians repair familiar issues like broken screens in minutes.
Des Moines, IA (PRWEB) July 17, 2014
Gophermods newest location is located near Douglas and 100th St in Urbandale and in the same building as Yo2Go, Tsing Tao and Central Bank. As a part of the grand opening celebration, Gophermods will be offering 15-20% off all repair service as well as other giveaways and promotions.Des Moines iPhone repairs will also be discounted by $40 during the opening celebrations.
Gophermods has repaired thousands of iPhones and various devices across the country and is excited to expand the Gophermods repair experience to the Des Moines area. There is no need for appointments and walk in repairs are preferred. The repair shop will be open Monday thru Thursday, 10am - 7pm, Friday 10am - 5pm and Saturday 12pm - 5pm. Professional cell phone repair technicians and Certified Mac Technicians will repair familiar issues like broken screens in minutes.
As of July, Gophermods now offers repairs for all Apple products, such as the iPhone, iPod, iPad, and MacBook laptops. Gophermods has been able to repair everything conceivable, from shattered glass, to water damages.
The opening of the Des Moines location is Gophermods' first store outside of Minnesota. In 2013 Gophermods opened four stores in the Minneapolis metro, flooding the market with quality, reliable and affordable while-you-wait repairs. Gophermods repair services help solve any mobile phone or device issues in the Des Moines neighborhood.
Gophermods is aware Apple isn't the only product in your pocket, they offer other popular and leading brands such as Samsung, Sony, Microsoft, HTC, Motorola, LG, in addition to other tablets and computers.
About Gophermods
Gophermods is a Minneapolis-based company that specializes in consumer electronics repair. Each year, Gophermods repairs thousands of consumer devices with quality parts and professional know-how. Gophermods is the one stop shop for full-service game console, iPad, iPhone, iPod and Smartphone repairs.
Gophermods is accredited though the Minneapolis-St.Paul Better Business Bureau and is a proud member of the Urbandale Chamber of Commerce.
Gophermods
3820 100th St
Urbandale IA, 50323
515-462-0381