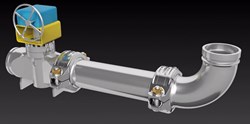 (PRWEB) December 17, 2013
Victaulic, the world's leading manufacturer of mechanical pipe-joining systems, introduces a line of balance-of-plant piping solutions for desalination and reverse osmosis (RO) facilities. Anchored by grooved options for Victaulic MTS plug and check valves and the Victaulic StrengThin™ Piping System, Victaulic balance-of-plant piping solutions compress the construction schedule and reduce the direct and indirect costs of desalination plant construction.
Compared to weld/flange piping fabrication, Victaulic balance-of-plant piping solutions reduce risk, eliminate construction inefficiencies and deliver cost and time savings. The Victaulic StrengThin™ System enables a reduction in pipe to Schedule 10S or Schedule 20 and reduces the number of flanges required, resulting in material cost savings. Fabrication shop assembly time can be reduced to minutes per joint, and non-destructive testing as well as pickling and passivation are eliminated, resulting in significant savings in labor time and costs. Victaulic truck-loading software enables grooved spool components to be laid out, rotated and nested for more efficient loading, reducing transportation and handling costs. On site, the speed of installation combined with the elimination of field welds, fit-up issues and rework reduces field labor time. The combination of shop and field labor-hour savings can shorten the overall construction schedule, allowing more time for testing, commissioning and plant turnover.
In August 2012, Victaulic acquired the desalination business of MTS Valves & Technology, adding the company's valves for the desalination market to the Victaulic product portfolio. Paired with Victaulic StrengThin™ couplings, Victaulic MTS valves enable fast, easy field fit. Valves can be sent directly to the job site instead of the fabrication shop, reducing costs as well as the possibility for damage and fit-up issues. The couplings create a union at the valve, which enables easy access for system maintenance and valve servicing. Valves include the Series 465 Plug Valve and the new Series 415 Check Valve.
The Victaulic StrengThin™ Piping System enables direct pipe-end preparation and delivers unmatched high-pressure performance on Schedule 10S and Schedule 20 Super Austenitic, Duplex and Super Duplex stainless steel pipe. The Style D08 rigid coupling delivers weld-like load carrying capabilities and features the exclusive Victaulic Grade "E3" EPDM gasket, which can help reduce biofouling and chemical treatment. Super Duplex StrengThin™ fittings—including elbows, tees, caps and reducers—enable quick, easy field installation and do not change flow characteristics. The StrengThin™ Piping System creates a union at every joint for ease of access, maintenance and expansion.
Victaulic balance-of-plant piping solutions are available in sizes ranging from 2 to 16 inches (50 to 400 millimeters) and are rated for pressures of up to 1,200 psi (8,200 kPa).
For more information about Victaulic balance-of-plant piping systems and other solutions for the RO market, please visit the Victaulic desalination and reverse osmosis piping systems page.
About Victaulic
Since 1919, Victaulic has been the world's leading producer of grooved mechanical couplings and pipe-joining systems. Used in the most demanding markets, Victaulic innovative piping technologies and services put people to work faster while increasing safety, ensuring reliability and maximizing efficiency. The company has 15 major manufacturing facilities, 28 branches worldwide and over 3,600 employees who speak 43 languages across the globe. With more than 900 active global patents, Victaulic solutions are at work in 115 countries across diverse business lines including oil and gas, chemical, mining, power generation, water and wastewater treatment, military and marine, as well as commercial building and fire protection. For more information, visit http://www.victaulic.com and follow us on LinkedIn, Facebook, Twitter, and YouTube.