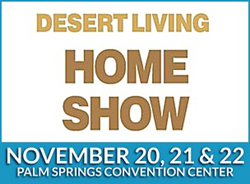 The home show is always one of the highlights of the year for everyone in the real estate industry.
Palm Springs, CA (PRWEB) November 18, 2015
Brad Schmett, Broker Associate with Luxury Homes by Keller Williams today announced that the upcoming Desert Living Home Show scheduled for the Palm Springs Convention Center on November 20-22 will be the biggest and best extravaganza offered this year featuring everything anyone could want to build or remodel their own luxury home. The outdoor California lifestyle is a highlighted feature of the home show.
With home-improvement exhibits that include kitchen and bathroom remodeling, security systems, plumbing, window treatments, landscape experts, architects, contractors, marble and countertops, artwork, and so much more there is virtually nothing attendees will not be able to find during this three day gala of workshops, demonstrations, exhibits and seminars all designed to impress. An array of celebrity exhibitors is on the agenda.
Schmett observed, "The home show is always one of the highlights of the year for everyone in the real estate industry. With amazing ideas for remodeling and every state-of-the-art luxury and amenity you could possibly imagine this is definitely the place to be for all of us who love luxury home living and the outdoor California desert lifestyle. My team and I expect to be very busy during this event as this is just the sort of thing that puts folks in the mood to buy new homes. We look forward to welcoming everyone and will be standing by to show homes and answer questions throughout the length of the event."
Parking is free and general admission is only seven dollars, with a special senior price for folks 62 and over of only five dollars. The Palm Springs Convention Center is located in downtown Palm Springs and the show will feature plenty of celebrity experts, gourmet goodies, and entertainment galore. Not to be missed for those who enjoy luxury living at its best.
For more information on the Desert Living Home Show visit http://www.worldclassshows.com/DesertLiving.html.
To find out more about investing in Palm Springs, CA real estate visit http://www.bradschmett.com/communities/palm-springs.
About Luxury Homes by Keller Williams: Luxury Homes by Keller Williams – Palm Springs, is an exclusive, elite and sophisticated group of real estate consultants raising the bar for service in the Palm Springs area residential real estate market.