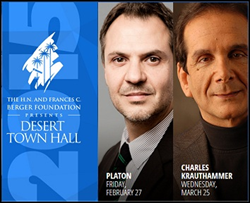 This is just the sort of event that brings in some of our greatest thinkers and educators.
La Quinta, CA (PRWEB) February 21, 2015
Brad Schmett, Broker Associate with Luxury Homes by Keller Williams today announced that the Desert Town Hall Lecture Series, featuring Mitt Romney, Dr. Neil Degrasse Tyson, Charles Krauthammer and Platon is offering a huge boost to La Quinta area real estate as the popularity of the prestigious series brings in record attendance once more.
Consider the Desert's premier lecture series, world leaders are brought to the Indian Wells stage in a series of four programs, which usually run from January to April each year. Produced by Desert Forum, Incorporated, a nonprofit educational corporation, some of the most influential names of our times have taken the stage to the delight of Coachella Valley audiences. Held at the Renaissance Indian Wells Resort and Spa, lectures are held in the Emerald Ballroom and tickets must be purchased in advance. Lectures begin promptly at 6 PM and run for about one hour.
Schmett observed that, "This is just the sort of event that brings in some of our greatest thinkers and educators. This Valley is filled with humanitarians, intellectuals, and politically savvy individuals who flock to this lecture series every year. We are so honored this year to have people like Mitt Romney and Dr. Tyson, the always interesting Charles Krauthammer and the genius of Platon. The Coachella Valley enjoys one of the highest levels of culture and the arts anywhere in the world thanks to programs such as this. A great many of the attendees will remain in town for the week following the lecture they attend, to look for real estate acquisitions for speculation or as a second home. My team and I are happy to accommodate their busy schedules and take them on private tours of our luxury homes."
With limited tickets and space, it is recommended to become a season subscriber or sponsor to ensure attendance at any of the lectures. Dinner ticket holders are invited to the Rose Lawn for a wine reception after the lecture, followed by dinner and a Q & A with the lecturer.
For more information on The Desert Town Hall Speakers Series visit http://palmspringsrealestateinfo.com/ps/desert-town-hall-lectures.
To find out more about investing in La Quinta, CA real estate visit laquintarealestateinfo.com.
About Luxury Homes by Keller Williams: Luxury Homes by Keller Williams – La Quinta, is an exclusive, elite and sophisticated group of real estate consultants raising the bar for service in the upper-tier La Quinta and Palm Springs area residential real estate market.