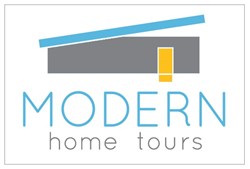 Palm Springs, CA (PRWEB) January 13, 2014
Premier home tour organizer, Modern Home Tours, has announced its first cooperative event of 2014 with the Hamptons Expo Group, producers of the nation's leading contemporary art fairs, will take place on Saturday, February 15th in Palm Springs, California. The Desert Contemporary Home Tour will be held conjointly with the Palm Springs Fine Art Fair and will highlight the intersection between contemporary art and the area's most unique and contemporary and modern homes.
The Desert Contemporary Home Tour is a self-guided driving tour that gives local architects and designers a day in the spotlight. At each stop, tourgoers will have the rare opportunity to explore the inside and out of five to eight of Palm Springs' most amazing private residences. For the architects and designers whose work is on display, it is a live citywide gallery of their cutting-edge work; for homeowners, it is a unique chance to share their lovingly crafted modern living spaces; and for ticket-holders, it's a day of neighborhood exploration and visual awe.
"The opportunity to partner with world-class art promoters like the Hamptons Expo Group is a tremendous opportunity," James Leasure, co-founder of Modern Home Tours, LLC, says. "Modern home design is living art, and we know both architecture enthusiasts and patrons of contemporary art will enjoy another medium for experiencing the cutting edge of lifestyle and creativity."
Participating homes on the Desert Contemporary Home Tour will be open for viewing from 11:00 am – 4:00 pm on Saturday, February 15th, in and around the Palm Springs area. The final stop of the home tour will be the Fine Art Fair's VIP Lounge for a catered "Meet & Greet" Reception, where tour participants are invited to mingle with the tour's featured architects and designers.
"Fairgoers can now gain insight on how art works of all sizes and mediums can be integrated into a lifestyle," said Rick Friedman, president and founder of Hamptons Expo Group. "Witnessing how others live with art is inspiring and will hopefully motivate more art acquisitions at the Fair. The end of day 'Meet & Greet' at the Fair makes it all very real and achievable."
The Desert Contemporary Home Tour has also named the Desert AIDS Project as the tour's local non-profit partner. Volunteers from the Desert AIDS Project will help staff the event and receive a portion of the tour's proceeds. Visit http://www.desertaidsproject.org for more information on the Project's mission.
For more information on these exclusive upcoming tours, visit http://modernhometours.com/event/desert-contemporary-home-tour-conjunction-palm-springs-art-fair and http://palmspringsfineartfair.com. Combination tickets to attend the Desert Contemporary Home Tour Palm Springs Fine Art Fair are available at a discounted price.
About Modern Home Tours, LLC: Based in Austin, Texas, Modern Home Tours, LLC was founded by partners James Leasure & Matt Swinney in 2010 to introduce modern architecture and modern living to people throughout the world. Through fun and informative tours in dozens of cities across North America, the group invites people into some of the most exciting examples of modern architecture and design that can be found. With carefully selected architects, neighborhoods and living spaces, a Modern Home Tour is unlike anything you've ever seen. Not only will you learn about the very latest in home design while on our tours, but you might even get an idea or two for your next home project!
About Hamptons Expo Group: The Hamptons Expo Group has emerged as one of the fastest growing fine art fair producers in America. Their "boutique" shows feature prominent galleries offering the finest in post-war and contemporary art. Headquartered in Southampton, New York, the Hamptons Expo Group created and produces ArtAspen, ArtHamptons, Silicon Valley Contemporary, Houston Fine Art Fair and Palm Springs Fine Art Fair.