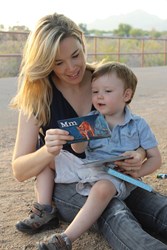 Perfect learning tool for anyone interested in the colorful and diverse wildlife in the desert.
Tucson, Arizona (PRWEB) October 09, 2013
After a year off work to spend time with her new baby, artist and graphic designer Julie Rustad was itching to get creative again. At around the same time, she was reading more alphabet books to her son, Syver.
"I noticed in other sets that 'N is for Narwal' and 'U is for unicorn'. We don't see many of those in Tucson," quips Julie. So while Syver napped, Julie dug out her paintbrush and acrylics and set to work.
She created 'Desert Dwellers: Southwest Animals from A-Z', a set of colorful flash cards with facts and stories about the subjects, and descriptions aimed squarely at kids.
"When I began designing the flash cards, I realized that they could provide more education than just the alphabet, they can hopefully create a sense of wonder and excitement about the wild world around them.", says Julie.
A tarantula carries the description 'Fuzzy Wuzzy', with quick facts about its predators, food, habitat and lifespan. A vulture is described as 'Not A Picky Eater'. A hummingbird is proclaimed a 'Show Off!'
From Anna's Hummingbird to the Zebra-Tailed Lizard, the set of flash cards, priced at $20 each (with shipping), are a perfect learning tool for anyone interested in the colorful and diverse wildlife that inhabits the Southern Arizona desert. In addition, flash cards recently received a huge thumbs-up in a study of effective learning techniques by psychologists at Kent State University.
Parents and educators can use the flash cards in a variety of ways:

Use the cards to read stories and facts about each animal. Children can make up a story about that animal or a group animals.
Hand each child a card and have them act like the animal on it, giving clues and facts so others can guess what it is.
Put up an animal of the week in your home or classroom, and have additional activities related to that animal.
Julie has been drawing and painting for as long as she remembers. And with two parents who were both teachers, she says education is in her genes. "I remember my dad bringing me home art supplies from the school he taught at. My parents were really supportive. They had me enrolled in acrylic painting and cartoon classes while I was still in elementary school," says Julie, originally from Endicott, NY and now living in Tucson.
When she's not painting and running her award-winning graphic design firm, 24-7 Creative Solutions, Julie plays drums in two bands, The HypnoGogs and the Nap Skippers. The latter consists of Julie, husband Jon, and Syver, who plays anything he can get his hands on, but has a soft spot for his red ukulele.
The family is working on a Desert Dwellers Flash Cards-themed song they can perform together live. Julie and Jon are also working on iPhone and iPad applications for the cards.
Customers can order the Desert Dwellers Flash Cards, along with desert-themed greeting cards and prints, and also gift certificates, online at JulieOriginals.com.
###