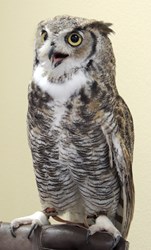 Family fun party celebrating desert animals!
Tucson, AZ (PRWEB) October 23, 2013
This November 2nd, you are invited to a party for 'Desert Dwellers'.
Held at Mildred & Dildred Toy Store, the free family event will include puppets, live music, and raffles to benefit Tucson Wildlife Center, a non-profit organization dedicated to the rescue, rehabilitation, and release of injured and orphaned wild animals throughout southern Arizona.
The stars of the show will be the Desert Dwellers. Tucson Wildlife Center will bring a Great Horned Owl to the event, and provide a puppet show about desert wildlife. Games will be played with Julie Originals 'Desert Dwellers: Southwest Animals from A-Z', a set of colorful flash cards with facts and stories about Sonoran desert wildlife that make a perfect children's gift for the Holidays.
The time: 10:30 am, Saturday November 2nd, 2013.
The place: Mildred & Dildred Toy Store in the La Encantada shopping center (lower level), 2905 E. Skyline Drive, #186, Tucson, AZ 85718
Including: Stories and fun facts about our Southwest animals; real desert dwellers from Tucson Wildlife Center; puppets; live music by the The Nap Skippers.
A variety of Tucson organizations and artists have graciously donated raffle items. The raffle money will go to Tucson Wildlife Center so that they can continue to take care of our desert dwellers.
About the Desert Dwellers Flash Cards
Artist, graphic designer and Tucson, Arizona mom Julie Rustad created the Desert Dwellers flashcards to teach her son, Syver, the alphabet and animals that we see in Tucson.
So while her son Syver napped, Julie set to work with paintbrush and acrylics to create paintings of southwest animals and fun facts for kids.
A tarantula carries the description 'Fuzzy Wuzzy', with quick facts about its predators, food, habitat and lifespan. A vulture is described as 'Not A Picky Eater'. A hummingbird is proclaimed a 'Show Off!'
The flash cards, priced at $20 each (with shipping) and packaged in a colorful 4" x 7" box, make a perfect learning tool and a Holiday gift that will appeal to kids and their parents, grandparents or caregivers.
When she's not painting and running her award-winning graphic design firm, 24-7 Creative Solutions, Julie plays drums in two bands, The HypnoGogs and The Nap Skippers. The latter consists of Julie, husband Jon, and Syver, who plays anything he can get his hands on, but has a soft spot for his red ukelele.
The family has written a Desert Dwellers Flash Cards-themed song they perform and are looking forward to rocking out classic and original music at the party.
The Desert Dwellers Flash Cards are available at Mildred & Dildred Toy Store and also available online at Julie Originals.com.