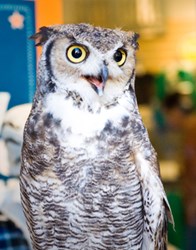 In one hour, The Desert Dweller Party raised $300 for Tucson Wildlife Center!
Tucson, AZ (PRWEB) November 06, 2013
Lots of kids, a wild animal and loud rock music could be some people's worst nightmare...but not the families at The Desert Dwellers Party! Held outside Mildred & Dildred Toy Store on Saturday, November 2nd, this menagerie of desert dwellers raised $300 for their local non-profit, Tucson Wildlife Center, in an hour.
Tucson Wildlife Center is a non-profit organization dedicated to the rescue, rehabilitation, and release of injured and orphaned wild animals throughout southern Arizona.
Julie Rustad and her son, Syver, kicked off the desert animal party by welcoming the crowd and thanking all of the businesses that donated raffle items. As "Bubba" the great horned owl was about to take the stage, 3 year old Syver told the large crowd that when Bubba was a baby he broke his wing when he fell out of his nest.
Today, "Bubba" and Tucson Wildlife Center Education Director, Joan Cass, educate the community about "Bubba's story and how they can help injured animals in southern Arizona.
Games using Desert Dwellers Flash Cards by their creator, Julie Rustad, proved how much the children love learning about their southwest animals. The children learned how fast roadrunners can really run by using the facts on the back of the "R" for Roadrunner card! Other fun facts included how coyotes use their howls to communicate at night. Playing with the animal flash cards concluded with the whole crowd of kids howling like coyotes in unison.
Just as the children's brains were almost full of desert dwellers educational info, the family band The Nap Skippers stepped on the stage. From "Yellow Submarine" to "Wheels On the Bus" to originals like "Cowboy Kitty" and "Cars and Trucks" - the 35 minute set was fresh and inspired some cool dance moves from the audience.
Towards the end of the Desert Dwellers Party, the crowd gathered around the raffle prizes in anticipation to see what they won. Generous gifts were donated from Armitage, Fading Vintage, Frost, Goldies, Motion X Training, Julie Originals, Madaras Gallery, Metro Car Wash, Mildred & Dildred Toy Store and the Tucson Jewish Community Center.
In one hour, $300 was raised for Tucson Wildlife Center from the sale of raffle tickets! Donations like this can be used to feed coyote pups or pay for triage and care for injured animals.
"Overall the party was a success!" exclaims Julie Rustad. "Maybe this will turn into an annual event! I loved the energy from the crowd, the collaboration of local organizations and most importantly, my son had a blast!"
Photos from the Desert Dwellers Party can be seen here.
About the Desert Dwellers Flash Cards
Artist, graphic designer and Tucson, Arizona mom Julie Rustad created the Desert Dwellers Flash Cards to teach her son, Syver, the alphabet and animals that we see in Tucson.
So while her son Syver napped, Julie set to work with paintbrush and acrylics to create paintings of southwest animals and fun facts for kids.
A tarantula carries the description 'Fuzzy Wuzzy', with quick facts about its predators, food, habitat and lifespan. A vulture is described as 'Not A Picky Eater'. A hummingbird is proclaimed a 'Show Off!'
An appearance of the Desert Dwellers Flash Cards on the Tucson Morning Blend can be seen here.
The southwest animal flash cards, priced at $20 each (with shipping) and packaged in a colorful 4" x 7" box, make a perfect learning tool and a Holiday gift that will appeal to kids and their parents, grandparents or caregivers.
When she's not painting and running her award-winning graphic design firm, 24-7 Creative Solutions, Julie plays drums in two bands, The HypnoGogs and The Nap Skippers. The latter consists of Julie, husband Jon, and Syver, who plays anything he can get his hands on, but has a soft spot for his red ukelele.
The Desert Dwellers Flash Cards, prints and greeting cards are available online at Julie Originals.com.