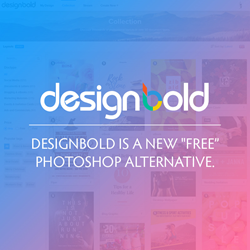 If Photoshop is for professional designers, DesignBold is built for everyone. 90% of people will need 10% of photoshop's features. We bring that "10% of features" online, and offer thousands of design inspirations for you to get started
Wilmington, Delaware (PRWEB) August 16, 2016
DesignBold Inc., a "Photoshop alternative" online design platform providing beautiful templates & layouts such as: Facebook covers, Instagram photos, Youtube channel art, ebook & magazine covers, among 50+ other document types, is proud to announce that it has successfully built a database of over 3,000 templates & layouts and is ready for their official launch.
"If Photoshop is for professional designers, DesignBold is built for everyone. 90% of people will need 10% of photoshop's features. We bring that "10% of features" online, and offer thousands of design inspirations for you to get started." said Hung Dinh - CEO & Founder
A pinterest-like collection, but "editable & customizable"
https://www.designbold.com/collection.
Note: Click on any design to edit
With DesignBold, depending on designers is no longer necessary: within a few clicks; business and salesmen can create graphic illustrations for their presentations & documents, marketers & bloggers can design blog images for their blog posts, landing page, website, email, magazine or any other marketing content.
In the same way that Google Documents has step-by-step replaced Microsoft Office, DesignBold is dedicated to changing the way graphic designers create and collaborate with non-designers. Unlike Photoshop & Illustrator source files (PSD, AI, TIFF) you buy from TemplateMonster or GraphicRiver, DesignBold's layouts & templates are instantly editable online.
DesignBold has partnered with 123RF to give users access to over 40 million stock photos & vectors. Hundreds of layouts are being added every week by DesignBold's authors & contributors.
DesignBold has been a vision of Hung Dinh for many years. He has long believed that a web app like Photoshop is possible, and thanks to the modern browsers technology, it is; many important design features from Photoshop can now be done in-browser.
Launching Promotions
+++++++++++++++++
The CEO is giving away $20 worth of credit for premium stockphoto using "HUNGDINH" as the promotion code
https://www.designbold.com/account/gift-code .
Demo & Users' Feedback
++++++++++++++++++
Live Demo https://www.youtube.com/watch?v=CpDCjoEpntE.