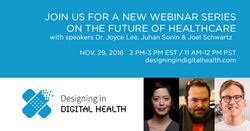 "The future of healthcare research and clinical care delivery will be patient-driven and participatory," said Dr. Lee.
Arlington, MA (PRWEB) November 15, 2016
On Tuesday November 29, 2016, the "Designing in Digital Health" education program makes its debut. Co-created by Involution Studios, a healthcare design studio headquartered in Arlington, Massachusetts, and Sproutel, an R&D studio creating innovations in kids health based in Providence, Rhode Island, "Designing in Digital Health" looks at future trends in digital health, offering attendees practical tools to convert this foresight into improved process and outcomes in their practice. The event is catered to both healthcare and design professionals.
"'Designing in Digital Health' is about moving in pace with the future," said Juhan Sonin, a principal of Involution Studios. "We want to not just create awareness about what is going to be coming that we can't necessarily see yet, but translate that foresight into tools that make us and our employers more effective to the benefit of all the people and patients that we effect."
Mr. Sonin leads the health and design practices at Involution Studios. He is one of the foremost experts on digital design, having given recent talks at venues such as the Consumer Genetics Conference, HIMSS, and Stanford Medicine X. He is directly consulted by the leading health organizations such as the US Department of Health and Human Services, 3M Health Information Systems, and Johnson and Johnson.
"This is mission-driven. It's about better outcomes," said Aaron Horowitz, a co-founder and chief executive officer at Sproutel. "We are focused on kids' health, and offering a program like 'Designing in Digital Health' enables us to share our expertise in pediatrics to empower others to innovate in the space."
Mr. Horowitz is co-founder and CEO of Sproutel, the creator of Jerry the Bear – a platform for pediatric health and wellness education. He has shared his expertise in robotics and social entrepreneurship through speaking at numerous conferences including [email protected], Hardware Innovation Workshop, Big Ideas Fest, MakerCon, and Stanford Medicine X. Mr. Horowitz has also been recognized as one of 50 honored makers by the White House in 2014.
The event will last for one hour and include presentations from three experts. Joyce Lee, MD, MPH and the impresario of "Doctor as Designer", will get things started with "Patient Experts, Digital Technology, and the Maker Movement." Then Juhan Sonin will present "Care Plans: Driving Better Outcomes." The hour will conclude with Joel Schwartz, the CTO at Sproutel, offering "Digital Health in Pediatrics."
"The future of healthcare research and clinical care delivery will be patient-driven and participatory," said Dr. Lee. "The 'Maker Movement' so predominant in engineering this decade portends the ways in which healthcare is going to be something that becomes both centered around and driven by the patient. I look forward to sharing how this will matter to and potentially impact our participants."
Dr. Lee is the Robert P. Kelch, MD Research Professor of Pediatrics at the University of Michigan Medical School, and Associate Professor at the Medical School and at the University of Michigan School of Public Health. Her work appears in both formal academic journals and mainstream innovation publications such as Fast Company. She speaks at a diversity of venues around the world ranging from innovation conferences like TEDx, healthcare and academic centers like Kaiser Permanente Care Management Institute, and government organizations such as the United States Food and Drug Administration.
The debut of "Designing in Digital Health" is being offered free of charge to pre-registering attendees via Eventbrite. The event begin promptly at 2 PM ET on Tuesday, November 29, 2016 and runs for an hour. To learn more or sign up please visit the event web site at http://www.designingindigitalhealth.com
To learn more about the co-creators visit:
Involution Studios, http://www.goinvo.com
Sproutel, https://www.sproutel.com