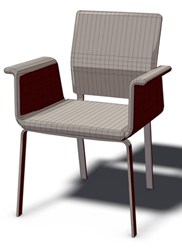 I'm drawn to furniture design as complete architecture on a minor scale.
- Brad Pitt
(PRWEB) July 31, 2013
The new 3D modeling package from IndiaCADworks specializes in amazing 3D models for a variety of rooms including kitchens, and office furniture which are all produced by skilled draftsmen with international design experience. Highly trained and detail oriented, the IndiaCADworks team has been in demand since its re-launch this week. The team has already been commissioned to construct 3D models for a variety of furniture pieces including pieces for entertainment, storage, office, and single seat applications.
Clients who outsource their 3D furniture modeling and rendering tasks to IndiaCADworks can be sure that they will receive clean, realistic, custom 3D furniture models and the assistance of a dedicated, experienced and qualified team. Its CAD specialists use the latest and customer specified CAD software to achieve a faithful and economical reproduction of every design cue.
Each 3D model is based on the aesthetics of the client's furniture design project, ensuring the model is scaled perfectly and adheres to each of the client's requirements. In order to do so considerations such as each furniture piece's material and stylistic fit are factored in along with scaling and model realism.
With IndiaCADworks signature commitment to quality, drafters use the latest 3D modeling software to deliver projects, including AutoCAD, 3DS Max and Sketchup.
IndiaCADworks Sr. Sales Manager said, "We always strive to provide customer-centric solutions to the highest standards of excellence. We understand how important it is for clients to have a CAD service which they can always rely on and have made a commitment to quality and service delivery a key part of our 3D modeling and rendering re-launch. We have focused on saving clients time and stress while also decreasing their company's error potential to amp up productivity."
The new look 3D furniture modeling and rendering team is backed with a 24-hour customer service availability seven days a week and a cost-competitive pricing structure.
In recognition of the re-launch, IndiaCADworks is offering all clients a 10% discount on all work orders of 100 hours or more.
In addition to the furniture modeling and rendering services IndiaCADworks also offers 3D modeling services for a wide range of architectural and mechanical needs. These services provide clients with 3D geometric CAD designs expertly created by highly trained professionals using the most efficient software available, including 3DS Max, a CAD program currently used by more than 100,000 companies worldwide.
To find out more, visit http://www.indiacadworks.com/
About IndiaCADworks
IndiaCADworks, a web network of Flatworld Solutions is based in Bangalore, India offers top-quality outsourcing services in CAD design, conversion and allied services to clients worldwide. The company was started eleven years ago and its talented employees have provided services to more than 400 satisfied clients.