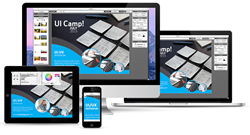 We have adhered faithfully to web standards and best practices: the result is an extremely customizable user interface.
Orlando, FL (PRWEB) September 21, 2016
Two updated solutions from Silicon Publishing will be on display from September 25 to 28 at the GraphExpo 2016 convention in Orlando.
Silicon Designer™ and Silicon Connector™ represent the latest breakthroughs in authoring online and connecting to cloud-based graphic assets. "Silicon Publishing looks to have created a solution that fills in 'the missing link' with web-to-print challenges faced by many," said Dan Ablett of ABG Marketing and Business Communications, a longstanding Silicon Publishing client.
Silicon Designer combines creative authoring freedom with reliable PDF output using Adobe® InDesign® CC Server to offer an online, drag-and-drop editor that integrates into existing storefronts or document management systems.
Adaptable User Interface
Silicon Designer is built with configurability and extensibility as primary features. Using just the right blend of the latest web technologies applied to online editing, clients can create unique white label experiences all their own.
"The range of primary applications for Designer is very broad: from customized sales collateral where branding is key, to browser-based applications allowing users a broad range of online design and customization options" said Max Dunn, the company's co-founder and CEO. "We have adhered faithfully to web standards and best practices: the result is an extremely customizable user interface."
Highest Quality Print Output
Unlike legacy applications built on PDF libraries for print rendition, Silicon Designer uses the industry leading composition engine, Adobe InDesign Server. With support for native InDesign, Photoshop and Illustrator files, PDF job options, and patented algorithms for text and graphic rendition, print production can be a very efficient process.
Easy-to-Manage Templates
Silicon Designer lets organizations create and manage rich, complex media on the web, enabling online editing of Adobe InDesign documents through Silicon Designer's HTML5 interface.
Access True Single-Source Assets with Silicon Connector
Silicon Connector is a powerful extension to the Adobe Creative Cloud that enables direct linking from InDesign, Photoshop, and Illustrator to Cloud-based assets on web servers or in DAMs. Rather than making copies of assets, the DAM alone serves as the single system of record.
Silicon Connector currently supports over 15 industry-leading DAMs and is quickly becoming the global standard for connecting the Adobe Creative Cloud to leading asset management systems, including Adobe Experience Manager, Alfresco, Canto, DALIM, eyebase, MediaValet, NetX, WebDAM, and Widen.
About Silicon Publishing
The world leader in web-to-print and multi-channel publishing with Adobe InDesign Server, Silicon Publishing has over 15 years of experience delivering best-of-class solutions for top brands including Nike, Google, Amazon, Hallmark, Adobe, and Disney.