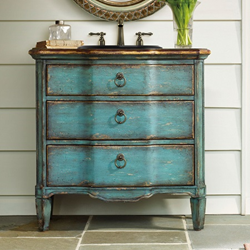 With an otherwise relatively neutral decor, a bright, colorful vanity acts as a sort of visual anchor, which can make the space feel brighter, cheerier, and even a bit larger.
(PRWEB) September 22, 2014
HomeThangs.com – the Online Home Improvement Store has made their goal to deliver the right product to the consumer. With that in mind, shopping and home design tips, as well as special product selections are being introduced.
Small bathroom vanities are usually made to blend in, with subtle, streamlined designs that help keep a small bathroom simple and uncluttered. But choosing a compact designer bathroom vanity is a great way to add personality to an otherwise simple bathroom. HomeThangs.com has introduced a guide to using a bold, stylish vanity as a focal point of a small bathroom by packing a lot of design punch into a relatively small package.
Designer bathroom vanities use bold, unusual colors to draw attention to themselves. Any color of the rainbow is fair game, but the idea is to use one very bright, vivid shade that will really pop and act as a solid focal point for the whole space. Bold patterns have a similar effect, with contrasting, repeating shapes and designs that stand out very vividly. HomeThangs.com's new guide discusses a few of the best ways to use these bold accents without making a small bathroom feel crowded or overly busy.
The guide also discusses a few more subtle ways that designer bathroom vanities add visual interest, like incorporating very ornate woodwork, patterned wood veneers, decorative hardware, or even gilded detailing. These features are eye catching without being overly showy, and add a nice luxurious element that's often absent from very small bathrooms. Even simply altering the shape of the vanity can make it feel much more dramatic and stylish, and HomeThangs.com has a few examples of when and where this technique works especially well.
For a quick look at this simple, effective way to enhance a small bathroom, check out the full article here.
HomeThangs.com is not only a home improvement superstore, it also provides expert design tips and a comprehensive shopping guide, taking the ideas from professional interior designers, and offering tips to the consumers on how to pick the products to best suit their needs.