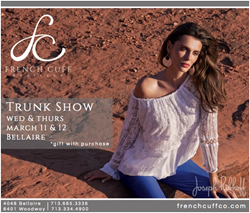 Houston, TX (PRWEB) March 31, 2015
French Cuff Boutique, located at 4048 Bellaire Blvd., presented the Joseph Ribkoff Trunk Show from 10 a.m. to 6 p.m. on Wednesday, March 11 and Thursday, March 12. Guests got an exclusive sneak peak of the summer and fall 2015 collections.
Joseph Ribkoff launched his first collection in 1957 and has since built a reputation for innovation, versatility, affordability and quality. Today, Joseph Ribkoff is one of the leading clothing producers in the Canadian fashion industry.
According to Ribkoff, "Our designs reflect an in-depth understanding of fashion trends and consumer preferences in key markets all over the world. We cater to the upper echelon of the fashion market and offer a unique style, which has given the name Joseph Ribkoff international recognition."
For more information on Joseph Ribkoff, visit http://www.josephribkoff.com/. To learn more, contact Rachel Duncan at 713-334-4900 or Rachel(at)frenchcuffco(dot)com.
About the company:
French Cuff Boutique is a gem of a women's apparel and accessories boutique. French Cuff Boutique embodies founder Kairy-tate Barkley's vision of providing a personal, convenient and stylish shopping experience in an intimate neighborhood setting. Opened in July 2008 at the crossroads of Houston's West University Place and Bellaire neighborhoods, French Cuff Boutique's clientele enjoy access to designer labels that are current and timeless, a chic and inviting décor, expert personal service and an accessible location.
In September 2011, a second French Cuff Boutique opened where Houston's stylish Galleria and Memorial neighborhoods intersect, bringing the same vision and approach to another jewel box setting. Both boutiques offer a well-edited inventory that marries the latest trends with must-have timeless classics.
For those who are unable to visit French Cuff Boutique in Houston, FrenchCuffCo.com, launched in October 2009, delivers the French Cuff experience to a broader but still discerning audience. Whether visiting French Cuff online or at one of its locations, the fashionable woman will find a full range of designers and price points to express her personal style for any occasion from the business arena, to a night on the town, to that special community or social event.
French Cuff is open from 10 a.m. to 6 p.m. Monday through Friday and from 10 a.m. to 5 p.m. Saturday. Visit http://frenchcuffco.com/ for more information.
6401 Woodway, Ste. 127 Houston, TX 77057
(p)713.334.4900 (f)713.334.4901
4048 Bellaire Blvd. Houston, TX 77025
(p)713.665.3336 (f)713.665.3337