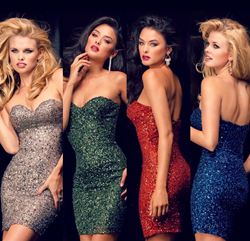 (PRWEB) June 30, 2015
ParisDress.com, the top online retailer for women's fashion is proud to announce the additions of new lines of party dresses for the Homecoming and Fall season. Primavera Dresses, Rachel Allan, Dave and Johnny, Shail K. dresses are all newly added to Parisdress.com.
From high end designer and celebrity inspired dresses, to gorgeous wedding gowns; there is something for everyone at Parisdress.com. There is no denying that shopping for the perfect dress takes time, effort, and plenty of money, but Parisdress.com has made this process easy with state of the art technology and a website that is easy to navigate. Not only that but they also offer great deals on high end designer dresses.
With fashionable online boutiques like Paris Dress, shoppers can now shop for the perfect outfit from the comforts of their own home. Now shopping for homecoming dresses, party dresses, summer dresses, or wedding gowns that are both beautiful and unique is no longer a time consuming affair.
With Paris Dress, everything that one could possibly need to look and feel fabulous is attainable with just a few clicks. Whether shoppers are looking for shoes, handbags, special occasion dresses, or bridesmaid dresses, they will be able to find it all. As opposed to other online stores, Parisdress.com offers shoppers extra bonuses, such as an easy return policy and 24/7 live customer service. http://Parisdress.com takes pride in putting its customers first and making sure that each and every customer is treated like the royalty they all are.
Efficient and complimentary shipping is another great aspect of Parisdress.com; when buyers buy something from Parisdress.com, they need not worry about whether their dress will arrive on time for their event or party. The company understands that shoppers want their merchandise within the week and strives to deliver in the expected time-frame. Expedited shipping can also be arranged by calling the customer service department. Paris Dress's customers can enjoy the complimentary shipping on all their orders.
To check out just what Paris Dress has in store for 2015 or to contact one of the site's stylists for some help, head to http://www.parisdress.com or call 1-855-804-0515.