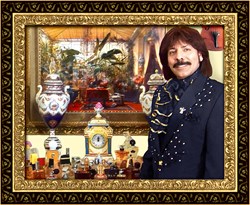 Nobility is not about a bloodline or a birthright, it is about an attitude. It is a noble attitude that provides the understanding that our human global population is actually one large family residing together on one small planet
(PRWEB) July 24, 2013
Shawn Rae is the perfect choice with the perfect voice; a very unique individual chosen to represent a very unique fragrance. Oneness Perfume is more though, than just another perfume; it is a product with a purpose. One offering from the online dictionary defines oneness as: 'A state or condition of perfect harmony or accord', this statement sets the entire tone for the humanitarian Oneness campaign.
The Oneness campaign is designed to inspire the wearer to ponder thoughts of oneness and to truly realize the nobility of those thoughts. Nobility is not about a bloodline or a birthright, it is about an attitude. It is a noble attitude that provides the understanding that our human global population is actually one large family residing together on one small planet. If we all, globally, could maintain thoughts of oneness, of harmony, we could make this world a wonderful place to live and love. We, as a society, have come to the realization that we all share the same air, the same water, the same desire to love and the same pain when we experience sadness. Oneness is undoubtedly 'The World's Truly Majestic Perfume' because it exalts the wearer's purpose into the noblest of actions. Shawn Rae, humanitarian, designer and international recording artist is dedicating himself to help promote the Oneness campaign as one way to increase funding for much needed humanitarian projects worldwide.
Shawn Rae was raised until the age of 18 in the foothills of the Himalayan Mountains, inheriting from both of his parents a remarkable lineage of Christian, Hindu, Sikh, Muslim, Jewish, Tibetan, and Chinese ancestry. According to Shawn, "A unified humanity can collectively resolve problems… Divided, we only serve to create them." Further, Shawn sees, "The challenge is individually and collectively to awaken our true potential for goodness and greatness, and to realize that positive change begins with us."
The Oneness Perfume is a dynamic nexus of East and West. It exists in a combination of Occidental and Oriental ingredients united together in perfect and harmonious oneness. Infused in this eclectic selection of exotic flowers and plants is a touch of pure golden Sunflowers and a delicious hint of Allspice Berries that grow wild in the rainforests. The crown of this precious jewel is an unfolding of sweet Iris and soft Amber Crystals. At its heart, ready to empassion and awaken the soul, lies an aromatic blend of rich Egyptian Jasmine, Bulgarian Rose, and the generous warmth of Incense. The drydown is influenced still, by the exotic addition of East Indian Sandalwood from the mystical Orient, along with Vetiver, Oakmoss, and White Musk, thus creating altogether a completely sensational and inspirational experience. A universally appealing award winner for the senses, this unisex sensation is irresistible to both women and men alike, as it indelibly leaves one with its timeless message and unforgettable signature. View of the fragrance and its 'Brand Ambassador' on YouTube: http://www.youtube.com/watch?v=0wmH5FQZapg
In all of his endeavors, Shawn is committed to share his resources, time and effort in supporting causes that alleviate homelessness, hunger, disease and despair.
More more info: Shawn Rae Video Bio 2013: http://youtu.be/jBt9I3g362Q and at http://www.ShawnRae.com