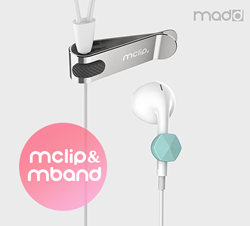 An Accessory For Your Audio Accessory
Seoul, South Korea (PRWEB) July 20, 2016
Indiegogo campaign: http://igg.me/at/mband
New Startup Company MADD announced to be raising funds via crowdfunding campaign on Indiegogo to finish the development of their revolutionary earphone accessory. The company set out to raise 8,000USD on Indiegogo campaign to produce the first batch of their latest invention that is going to change the mobile accessories market.
Although there are infinite mankind efforts and design in beneficial ways of using earphones and cables, but this new product will totally change the way of utilizing and creating a new revolution. People eventually fall back to analog earphone as it's lightweight, not battery draining and it's cheaper to get it replace anytime compared with other advanced choices. And adding on to it benefits as an arranging tool for earphones and cable, it can definitely solve many problems and issues for the earphones. Most importantly, it's easy to use, interesting and addictive.
Check out the product video: https://youtu.be/Gz7uNKRgLgA
mband can be used individually or pair up with mclip for ultimate effects, both attach each other quickly and seamlessly which will change the usage ways of earphones forever. Making earphone last longer, organized and no more tangled or dangling wires! The perfect accessory to gear up with the present earphone to achieve the best user interaction! With its trendy and minimalist design, it suits for any look and style.
Facebook : https://www.facebook.com/design.madd/
mband & mclip are created to make something common uncommonly well. Attach the pair of mband on the both side of the earphone in an instant, easy to set up, comfortable to wear and looks smarter. Attach mband at the back of the neck, or on mclip (having it clipped on clothes or even bags) or even attach it to any magnetic surfaces. mclip has fine curves, sleek, classy, easy grip, and has a reliable earphone clamp. Having a secure clamp and smooth surface, it's easy to adjust the cable. Even if it's just for a short moment while ordering food or interacting with people, definitely looks smarter and life easier! mband can also be used for cables to attach on a desktop screen or as the cable organizer.
Stands out from the crowd with unique style and characteristic mband as it can also spice up the look as a fashion accessory, looking as an ear stud. More design will definitely be coming out in the future. For the fund-raising campaign, MADD released the basic feature design GEM - PINK, MINT, BLACK to be selected from. Stretched goals will be unlocked when the goal reached 5,000USD onwards.
100 earlybird pack is available at USD18 and estimated shipping date is around Nov2016.
Indiegogo campaign: http://igg.me/at/mband