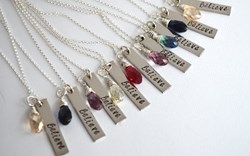 This is a piece that is simple enough to be worn on a daily basis. It is also a constant reminder to believe in yourself and to have faith in what you believe in.
Louisville, Ohio (PRWEB) January 02, 2014
DesignMe Jewelry will participate in an invitation-only luxury celebrity gift lounge hosted by GBK in honor of the 2014 Golden Globes Nominees and Presenters, where it will have its sterling silver and Swarovski crystal Believe Necklace gifted to select press and media attending The Artisan Group® exhibit; in addition, DesignMe business cards will be included in celebrity swag bags. The Gift Lounge will take place January 10-11, 2014 at an exclusive location in Beverly Hills, California.
Vanessa Painter, founder of DesignMe Jewelry, designed and handcrafted the Believe Necklace especially for the Golden Globes press gifting. The rectangular-shaped pendant is fashioned out of sterling silver and measures ¼" x 1-1/4" long. It has been hand-stamped with the inspirational word, 'Believe' and has a charming hand-wrapped Swarovski briolette accent. The pendant hangs on a dainty rollo-style chain.
"I love jewelry that is inspirational," remarked Painter. "This is a piece that is simple enough to be worn on a daily basis. It is also a constant reminder to believe in yourself and to have faith in what you believe in."
The Artisan Group asked Vanessa to create ten Believe necklaces for this gifting. Each necklace has been thoughtfully packaged to reflect DesignMe Jewelry's branding and will be nestled inside The Artisan Group's much sought after, black press swag bag.
The Believe Necklace is priced at $39.00 and is available to order at designmejewelry.com.
Collectors appreciate DesignMe Jewelry for its inspirational designs, casual cool vibe and Painter's willingness to create highly personalized, custom designs. The typical DesignMe customer enjoys sentimental jewelry that is uncomplicated and pretty enough to be worn every day.
Watch a DesignMe Jewelry video.
Painter resides in Louisville, OH. She is the mother of two and has been a high school vocal music director for 15 years. An artist at heart, she enjoys expressing her love and passion for creating in her jewelry.
In addition to her participation in the 2014 Golden Globes gifting, Painter has seen her sterling silver Flowering Branch Mom Necklace included in a collaborative gift bag prepared for some of Hollywood's most talked about moms, including Shakira, Claire Danes and Jessica Simpson, as part of a collaborative Mother's Day 2013 Gift Bag prepared by The Artisan Group. She has gifted a custom-made monogram necklace with Swarovski Crystals to Renee Zellweger and has donated her jewelry designs to benefit the charitable organizations The Joyful Child Foundation and The One World Foundation.
Purchase DesignMe Jewelry at designmejewelry.com and designmejewelry.etsy.com. Follow DesignMe Jewelry on Facebook (DesignMeJewelry) and Twitter (@DesignMeJewelry). Retail locations interested in carrying DesignMe Jewelry may contact Vanessa Painter directly at (330) 495-0726. For press inquiries about The Artisan Group, visit theartisangroup.org.
ABOUT DESIGNME JEWELRY
DesignMe Jewelry (http://www.designmejewelry.com) specializes in custom-made, hand-stamped, hand-finished jewelry. The company's Mom necklaces and memory designs will keep treasured loved ones close to the heart. Its inspirational designs are a daily reminder of what is important in life. All designs can be personalized and are created using high quality sterling silver that will last a life-time.
DesignMe Jewelry is a proud member of The Artisan Group®.