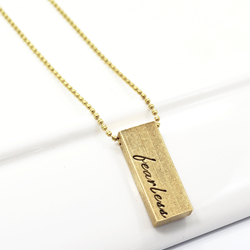 The customer tells me what he or she wants in their jewelry and I piece together different shapes and charms until I feel it conveys the love they wish to represent.
Louisville, Ohio (PRWEB) January 04, 2017
DesignMe Jewelry (http://www.designmejewelry.com), in association with The Artisan Group®, will participate in GBK's invitation-only luxury celebrity gift lounge honoring the nominees and presenters for the 2017 Golden Globes. The gift lounge takes place on January 6-7, 2017 at an exclusive location in Los Angeles, California.
The handcrafted jewelry company will gift celebrities stopping by The Artisan Group exhibit its industrial-inspired raw brass, hand-stamped Fearless Necklace ($42.00 at designmejewelry.com).
DesignMe Jewelry founder Vanessa Painter says, "For this year's Golden Globes gifting, I wanted to do something that would straddle the line between on-trend and classic; something inspirational but a little edgy; a piece that is of the moment yet can be worn for many years to come. For me, the word fearless connotes strength and bravery… and that makes it perfect for today's confident woman."
Gift recipients will find their Fearless Necklace thoughtfully packaged in DesignMe Jewelry's signature gift box, and tucked inside The Artisan Group's branded black swag bag.
DesignMe Jewelry will have on display at The Artisan Group's exhibit the Fearless Necklace and a sterling silver washer necklace stamped with 'Live the Life you Love/Love the Life you Live.' "I chose these two pieces because they are inspirational and timeless," remarked Vanessa. A third display piece is a leather cuff bracelet stamped with a Roman numeral date. The bracelet, which is one of DesignMe's most popular, can be worn by both women and men.
Collectors have been appreciating DesignMe Jewelry since 2012. Vanessa is known for her inspirational designs, casual cool vibe and willingness to create highly personalized, custom pieces. She says, "Most of my designs are created as a result of custom requests. The customer tells me what he or she wants or whom they want represented in their jewelry, and I piece together different shapes and charms until I feel it conveys the love they wish to represent."
Vanessa resides in Louisville, Ohio. She is the mother of two and was a high school vocal music director for 17 years. An artist at heart, she enjoys expressing her love and passion for creating in her jewelry.
DesignMe Jewelry's Football Necklace has been seen on "Bella and the Bulldogs," where it was worn by Brec Bassinger (Bella Dawson) on Episode 2:8 (air date 10/21/15).
DesignMe Jewelry has participated in GBK's 2015 Celebrity Gifting Suite in Honor of Primetime Television, as well as their 2014 Golden Globes Luxury Gift Lounge.
In 2013, the company's sterling silver Flowering Branch Mothers Necklace was included in a collaborative gift bag prepared for some of Hollywood's most talked about Moms, including Shakira, Claire Danes and Jessica Simpson, as part of a collaborative Mother's Day Gift Bag prepared by The Artisan Group.
Vanessa gifted a custom-made Monogram / Initial Necklace with Swarovski Crystals to Renee Zellweger and has donated her jewelry designs to benefit the charitable organizations The Joyful Child Foundation and The One World Foundation.
Purchase DesignMe Jewelry at designmejewlry.com and designmejewelry.etsy.com. Follow DesignMe Jewelry on Facebook, Pinterest, Instagram and Twitter (@DesignMeJewelry). Retail locations interested in carrying DesignMe Jewelry may contact Vanessa Painter directly at (330) 495-0726.
For press inquiries about The Artisan Group, visit theartisangroup.org.
ABOUT DESIGNME JEWELRY
DesignMe Jewelry (http://www.designmejewelry.com) specialized in custom-made, hand-stamped, hand-finished jewelry. The company's Mom necklaces and memory designs will keep treasured loved ones close to the hert. Its inspirational designs are a daily reminder of what is important in life. All designs can be personalized and are created using high quality sterling silver that will last a lifetime.
DesignMe Jewelry is a proud member of The Artisan Group®.
ABOUT THE ARTISAN GROUP®
The Artisan Group® (http://www.theartisangroup.org) is a premier entertainment marketing group dedicated to representing small business artisans at the best celebrity gift lounges and press events. The organization provides a collective sampling of handcrafted products to celebrities and members of the press at top luxury gift lounges such as those leading up to The Academy Awards, The Golden Globes, The MTV Movie Awards and The Primetime Emmys.
The Artisan Group also coordinates product placement of its member's handcrafted products on such hit television shows as Empire, Scandal, The Voice, How To Get Away With Murder, The Vampire Diaries, Days of Our Lives, The Young & The Restless, Modern Family, Jane The Virgin and Law & Order: SVU, among others. Membership in The Artisan Group is juried and by invitation only.
For press inquiries regarding The Artisan Group, please visit theartisangroup.org or email press[at]theartisangroup.org.