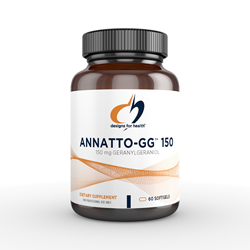 This like turning back the clock at a very affordable cost.
PALM COAST, Fla. (PRWEB) September 11, 2019
Designs for Health (DFH) – a leading, practitioner-channel dietary supplement company – announced today the launch of Annatto-GG™ 150, a revolutionary compound that supports healthy aging, specifically muscle protein synthesis, bone health and cellular energy generation. GG (geranylgeraniol), a patented form found in nature through the annatto plant, it's a nutrient produced by the body that declines naturally with aging.
"This is an exceptional supplement that helps compensate for the natural decline in GG synthesis during the aging process," explained Jason Bosley-Smith, MS, LDN, CNS, FDN and Director of Education at DFH. " It's like turning back the clock as it helps balance the body's decreased production of GG associated with the use of common prescription drugs to treat cholesterol and osteoporosis and it does it at a very affordable cost."
In the US today over 78.1 million Americans are already taking, or are eligible to take statins (cholesterol lowering medication). Often people on statins take CoQ10 to alleviate muscle pain and prevent sarcopenia. GG is directly involved in the creation of CoQ10, a coenzyme that is essential for growth and maintenance. A decline in synthesis of CoQ10 during aging may play a role in mitochondrial dysfunction and decreased cellular energy generation.
GG is also required to convert vitamin K1, found in leafy greens, into vitamin K2 to assist in heart and bone health. In addition, this function of vitamin K2 helps ensure appropriate deposition of calcium in bone and away from the arterial linings. The body doesn't create significant amounts of K2, but it does occur in high-fat animal foods such as egg yolks, liver, and full fat dairy products.
Annatto-GG™ 150 may help support the following:

Endogenous synthesis of CoQ10
Maintenance of healthy muscle mass
Maintenance of healthy bone density
Endogenous synthesis of vitamin K2
Metabolic health (metabolic syndrome, type 2 diabetes, obesity)
Skin health (acne, psoriasis, aging)
"We are very excited about this unique supplement that features American River Nutrition's GG-Gold™, a patented form of GG that we are the first to promote in multiple channels. Some of our preliminary studies* have also shown significant improvement in hormone outcomes." said Neal Mercado, Chief Marketing Officer at DFH, "This is a very novel compound and we believe that supplementation of GG at a certain age - over 40 - may be the 'magic bullet' for optimal longevity."
*White Paper is available upon request.
About Designs for Health:
Family-owned Designs for Health offers high-quality dietary supplements and functional foods to healthcare professionals and their patients. Guided by its founding philosophy of "Science First," the company holds an unwavering commitment to creating research-driven formulations with meaningful quantities of therapeutic ingredients that maximize the potential for successful health outcomes. For nearly 30 years, Designs for Health has been many healthcare professionals' trusted source for not only product innovation, but also leadership in clinical education and practice development solutions. To learn more, visit https://www.designsforhealth.com or call 800.847.8302.
For media inquiries please contact Giselle Chollett:
giselle@adinnyc.com, 212-693-2152.