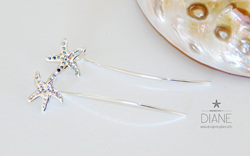 My "Shooting Star" Starfish earrings are perfect for the beach lover or nature lover who enjoys wearing stylish, handcrafted jewelry.
Lahaina, Maui, HI (PRWEB) June 30, 2015
Handcrafted jewelry company Designs by Diane (http://www.designsbydiane.info) will debut its "Shooting Star" Starfish Earrings to top media outlets at the 2015 Consumer Products Holiday All-Press Gifting Event, in partnership with The Artisan Group®. The event takes place July 8, 2015 in New York City.
The Artisan Group gift bag will include Design by Diane's signature starfish motif, showcased in the fresh, new "Shooting Star" earring design. The gift bag will be presented to magazine, newspaper and online editors, top bloggers, and TV, radio and online producers attending the event. Past attendees have included Allure Magazine, People Magazine, The Wall Street Journal, the L.A. Times, the New York Times, Ladies Home Journal, GQ and USA Today, among other publications.
"These are the most charming earrings; they look like a starfish stud but have the added element of a slightly curved tail that extends gracefully beyond the earlobe," says Diane Sowers, founder, designer and creator at Designs by Diane. "This unique design is perfect for the beach lover or nature lover who enjoys wearing stylish, handcrafted jewelry and I'm excited to debut them at this exclusive press/media gifting event."
Designs by Diane's "Shooting Star" Starfish Earrings are fashioned out of pure silver. They measure 2-1/4" long and retail for $38.00 at designsbydiane.com.
Diane designs and creates out of her jewelry studio on the beautiful island of Maui, where she is known for her tropical-inspired designs, including a line of contemporary sea glass jewelry and her "Maui" hammered fine silver necklaces and bracelets.
One of the designer's best sellers is her signature Hammered Hoop Earrings, which are offered in different sizes and with or without pearls. The designer notes that more and more frequently, clients are requesting custom work. "I think my clients enjoy purchasing bespoke pieces that reflect their personal style and taste," she says. "Customers will request my Double Sea Glass Ring in a specific color or material and then trust me to come up with something fun. I also recently completed a stunning, one-of-a-kind Sea Glass Collar Necklace that showcases select pieces of aqua, sea foam, green and white Maui sea glass alongside hammered silver ring and links and random sterling silver balls."
Designs by Diane jewelry has been seen on screen in the award winning movie, "The Descendants." A pair of Tear Drop Hoop Earrings were donned by Carla Renata (Susie) on two different episodes of the CW Network's "Hart of Dixie," who subsequently tweeted, "Your earrings looked lovely!" Giuliana Rancic tweeted, "Luv this bangle," after being gifted a Gold Hook Bangle with Pixie Druzy Dust. Designs by Diane Jewelry has also been purchased for gifting to actress Cybill Shepherd.
Diane has participated in GBK's Luxury Gift Lounges for the MTV Movie Awards and the Primetime Emmys. She has also had her jewelry selected for inclusion in an exclusive The Artisan Group gift bag honoring some of Hollywood's most eco-conscious celebrities including Jessica Alba, Emma Watson, Edward Norton, Adrian Grenier, Will.i.a.m, Robert Redford, Leonardo DiCaprio, Drew Barrymore, Woody Harrelson, Jessica Chastain, Julianne Moore, Ted Danson, Meryl Streep, Cameron Diaz, John Mayer, Geena Davis, Barbara Streisand, Alicia Silverstone, Ian Somerhalder, Lisa Kudrow, Mark Ruffalo, Natalie Portman, Rachel McAdams and Neil Patrick Harris.
Designs by Diane jewelry is carried online at designsbydiane.info and through select destination management companies.
To learn more about Designs by Diane, contact Diane Sowers by email or visit designsbydiane.info and become a fan on Facebook (@designsbydianemaui), Twitter (@SowersDiane), Instagram (@designmaui) and Pinterest (@diMaui).
For press inquiries regarding The Artisan Group, visit theartisangroup.org.
ABOUT DESIGNS BY DIANE
Designs by Diane (http://www.designsbydiane.info) is the home of unique, handcrafted sea glass jewelry and sleek, contemporary works of wearable art. Located on the beautiful island of Maui, Designs by Diane is owned and operated by jeweler Diane Sowers.
Diane, a former teacher from Palo Alto, California, started out making sea glass jewelry from sea glass she collected on the beaches of Maui. All sea glass used in her designs is as it came out of the ocean. The pieces are not altered. Her simple, clean wire work lends a contemporary feel to her jewelry. The mixture of pearls, shells, sterling components and gemstones adds texture to the designs. Many pieces are one-of-a-kind due to the nature of the materials, but similar pieces can be made.
Diane is a proud member of The Artisan Group®.